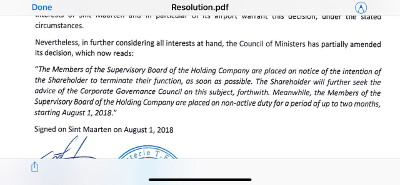 ~ COM will now follow proper procedures to dismiss PJIAH board members.~
PHILIPSBURG:--- The Council of Ministers are continuing with their illegal tactics to remove members of Princess Juliana Airport Holding (PJIAH) board. On Wednesday the COM dispatched a letter to the board members informing them that they will follow procedures by seeking advice from the Corporate Governance Council to dismiss them but in the meantime the members of the board are placed on non-active duties for a period of two months commencing August 1st, 2018.
Ever since Ministers from the UD/ SMCP government took office on January 15th 2018 they begin with their illegal and or desperate moves to remove persons from boards to install their own families and friends to key positions.
The Council of Ministers chose to relieve the members of the Supervisory Board of GEBE whose term came to an end on May 31st 2018 while they were not in a position to install new board members as an Interim Government, thus leaving a major government owned company in jeopardy.
The former members of GEBE Supervisory Board could have remained in their position as it stipulates in the Corporate Governance law which allows stability and continuity. At the moment GEBE Supervisory Board has one member while it is clear that there should be a minimum of three members.
At the moment the Council of Ministers are seeking to remove the members of PJIAH even though the team managed to win a major court case that will grant the airport sufficient funds to finalize the rebuilding the country's main port of entry.
Persons that worked with the former government and were working in various cabinets still cannot receive their last month salary and vacation pay, while new persons are brought into the various cabinets and are receiving exorbitant salaries as positions that do not even exists in the governmental structure were created.
It is clear that every government that takes office do so in order to hire new people in their cabinets and to also remove those on boards to put their own. This action taken by politicians have placed an enormous overhead on government's budget at a time when St. Maarten and its residents are trying to bounce back from an almost total devastation since the passing of hurricane Irma on September 6th 2017.
The current coalition approved a meagre budget that had a huge deficit and instead of working on rebuilding the country decisions are taken on expenditures that will forever jeopardize St. Maarten instead of rebuilding while waiting on the Dutch Government on the much needed recovery funds.