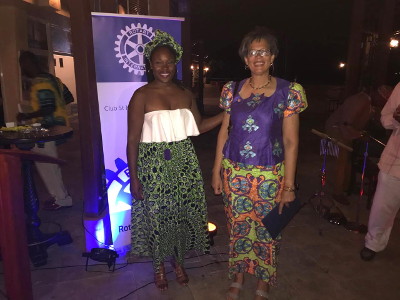 PHILIPSBURG:--- Rotary Club Saint Martin Sunrise awarded Mrs. Monique Alberts the Paul Harris Fellow for her outstanding work she has done in the community, primarily in education and literacy. Paul Harris Fellow is a great honor within the Rotary Foundation; in 2006 the number of Paul Harris Fellows reached the one million mark. The award is named after Paul P. Harris who founded Rotary International in 1905.
Mrs. Alberts joined the Rotary Club of Saint Martin Sunrise on June 16th, 2012. She has been an active member and held various positions in the club. Mrs. Alberts played a key role in two of the club's signature projects, the Readers Are Leaders Program and the erection of the Peace Monument. The club collaborated with the Philipsburg Jubilee Library (PJL) under management of Mrs. Alberts to launch the Readers are Leaders program, the goal of the program is to encourage high school students to read at least one book per month; the ongoing program has been very successful and was extended to elementary schools in 2016. The Rotary Peace Monument was created as a dedication of the Rotary Clubs on the island to promote peace. This project initiated by Rotary Club Saint Martin Sunrise aimed at empowering the community to overcome violence and injustice faced in our society. The Peace Monument is a symbolic piece of art representing "Peace, Dignity and Prosperity in our community. It is located prominently in front of the Philipsburg Jubilee Library.
Mrs. Alberts will be relocating to Curacao where she will head the Mongui Maduro Foundation Library. The Rotary Club Saint Martin Sunrise is honored to have had Mrs. Alberts a member of the club and is positive that she will continue to put Service Above Self in her true Rotarian spirit. The club wishes Mrs. Alberts much success with her future endeavors.