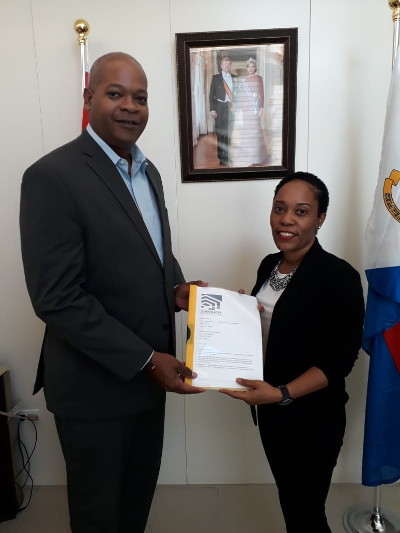 PHILIPSBURG:--- The St. Maarten Small Properties Association (SM.S.P.A) presented their Damage Assessment Report and Marketing plan to Interim Minister of Tourism, Economic Affairs, Traffic & Telecommunications, Cornelius de Weever regarding the challenges of small properties on the island Post Hurricane Irma and the way forward.
In a previous meeting with the Minister earlier this month the association outlined the challenges being faced, by the small properties, and the association is seeking assistance from government with tax holidays, reduction in taxes, low interest loans, and consultation to improve their properties. The association also hopes to tap into the roof repair program that currently is being offered by government. Skills building training has been proposed to the Small Properties Association, which will also add value.
"The SM.S.P.A board and their members would like to thank the honorable Minister Cornelius deWeever and his Cabinet for taking time out of his busy schedule to meet with the association, it was very informative.
"As an association, our mission and goals are to continue working on open and concrete discussions with a broad base of stake holders within our community. That includes our Ministry of Tourism, Tourism Bureau, St.Maarten Tourism Authority, St.Maarten Chamber of Commerce, Bankers Association, Port Authority, Airlines, and Travel Agencies along with other small hoteliers" said Ms. Nzinga Lake, President of the St.Maarten Small Properties Association.
"The idea is also to take advantage of key opportunities available by partnering to empower and motivate our members through trainings, product development, and promoting their properties and our island destination" said Lake.