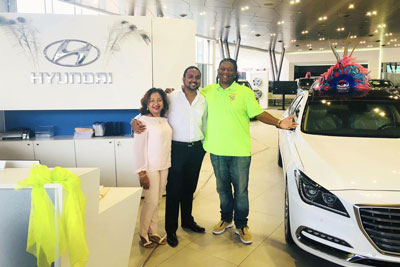 PHILIPSBURG:--- Motorworld has answered the call of the St. Maarten Carnival Development Foundation (SCDF) for the private sector to assist with the staging of Carnival 2018. The SCDF on Wednesday announced that the company "has literally saved this Carnival season and committed to the festival we all love for the long term."
SCDF earlier this week called on any private sector entity to financially assist with Carnival 2018 in a year that is especially difficult following the passing of Hurricane Irma and Maria. In the aftermath of the storms, the foundation lost many of its corporate sponsors either completely or had to accept significant cuts to annual sponsorships.
With government subsidy covering only a fraction of SCDF's budget annually, the rest is primarily made up of corporate contributions. "Without these, there is no way to pull off Carnival. When we lost some of our partners this year due to the destruction Irma had caused, we knew the challenge was going to be bigger than ever to fund Carnival. Thus we sent out the call," President of the SCDF Alston Lourens said.
He continued: "Motorworld is already a long-standing partner but they answered the call in a big way and saved our season. Understand that the company had already committed to Carnival as it usually does, so needless to say we were extremely surprised, yet very grateful, when Motorworld decided to do even more for Carnival. It is very encouraging to know that we have partners who recognize the importance of this festival to the country and the economic activity it provides in a time when St. Maarten could use it. It goes without saying, we are very thankful."
CEO and Managing Director of Motorworld, Rena Amjad and Tariq Amjad, said that they were happy for Motorworld to come on board during this time of dire need for Carnival. "At Motorworld we pride ourselves in the fact that we are not just good corporate citizens, we are citizens first and foremost, so anything that helps to bolster the economy, to rebuild and to promote culture, we are big proponents of that," the Amjads said. "Motorworld is no stranger to supporting carnival, we already were long-standing partners with the SCDF. In spite of the devastation from Hurricanes Irma and Maria, we had no reservation in assisting to ensure that Carnival continues. We have all lost so much but cannot afford to lose Carnival too."
Over the years, Motorworld has stood by Carnival in various aspects with the donation of financial support, as well as vehicles for prizes and other forms of contributions, not only to SCDF, but Carnival queens, bands, artists, troupes, event organizers, and more. Through this new partnership, the SCDF and Motorworld will work even closer to ensure that Carnival 2018 takes place and, is sustained to the level, business-wise, that everyone has come to expect with respect and appreciation of the importance of this major celebration to our local cultural identity.