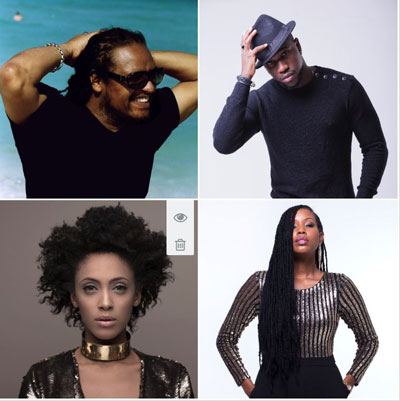 PHILIPSBURG:--- The St. Maarten Carnival Development Foundation (SCDF) will add another specialty concert to its annual lineup mix when it hosts the first "Soulful Company" on April 17. The foundation has actively set out the last few years to give St. Maarten Carnival annual concerts that could evolve into steady brands for the Carnival season.
Soulful Company is a new brand that intends to give concertgoers "smooth, soulful and great music" across all genres. The first installment of Soulful Company will feature the legendary reggae/pop crooner Maxi Priest, international performing Zouk, R&B, Jazz stars Phylissia Ross and Oswald and local performing vocalist Malaika Maxwell. The show will take center stage on April 17 at 8 pm in Carnival Village, with an entrance price of US $20 in advance at US $25 at the gate.
"For our first installment of Soulful Company, we are very excited about this lineup. We are excited about having our own Malaika Maxwell on stage with three international performers. She is extremely talented and will put on a great show with her band," President of the SCDF Alston Lourens said.
"We have Maxi Priest with his catalog of great hits that everyone will sing along to, Phylissia Ross will rock the crowd. If you have never seen her perform or heard her sing, you are in for quite a treat. Then Oswald is no stranger to St. Maarten he always put on a memorable show and leaves you dancing on your way home. This will be a fantastic concert," he added.
Lourens said there is plenty in store for Soulful Company in the years ahead. "The concept allows us to mix various genres with a focus on soulful, great music. From Zouk to R&B to Soca, all is in play," he said.
SCDF already has five name-brand shows that are part of the Carnival festivities annually; Caribbean Flag Fest, Noche Latina, Night of the Hit Makers, Bacchanal Sunday and the One Love Reggae Concert. "We hope to firmly establish Soulful Company as the sixth specialty show on the Carnival schedule," Lourens said.