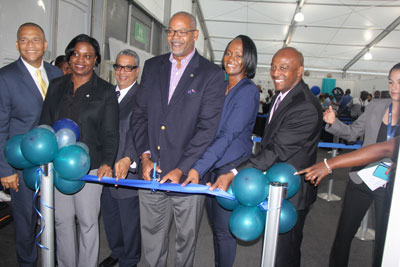 ~Hopes that NAGICO Insurances settles the claim in very near future so that Reconstruction of Terminal Building could begin.~
Airport:--- Management of the Princess Juliana International Airport (PJAIE) opened the temporary arrival pavilion to better accommodate travelers. Chief Operations Officer Michel Hyman credited the airport employees for the hard work they have been doing since the passing of hurricane Irma that ravaged the airport.
Hyman said due to the damages of the Terminal Building it was rendered unusable, thus management of PJAIE are seeking alternative solutions to better accommodate their travelers while ensuring that proper security is in place.
Hyman said that the opening the departure and arrival pavilion shows the hard work and dedication the employees and management team have in bring PJIAE back the state of the art Airport Building.
Chairman of the Supervisory Board Gary Matser also addressed the gathering on Thursday afternoon. Matser said the airport suffered extensive damages during the passing of Irma. He said that ever since then the staff and management of PJAIE have been working tireless hours to be able to provide services to St. Maarten and the neighboring islands. Matser explained that almost everything was done to secure materials including tarpaulins in order for the airport to resume serving the country. While thanking everyone for their hard work and contributions he said that management of PJAIE are hopeful that NAGICO Insurances will soon settle PJIAE claims in order for them to begin reconstruction of the Terminal Building. The ribbon cutting was done by Interim Prime Minister Cornelius de Weever in the presence of Interim Prime Minister Leona Romeo- Marlin and management of PJIAE.
Present at the opening were Interim Minister of TEATT Cornelius de Weever, Interim Prime Minister Leona Romeo- Marlin, Vice President of the Collectivity of St. Martin Valerie Damseau, members of the Supervisory Board of Directors Gary Matser, Michel Hodge, Alex Dijkhoffz, and Cleaveland Beresford.