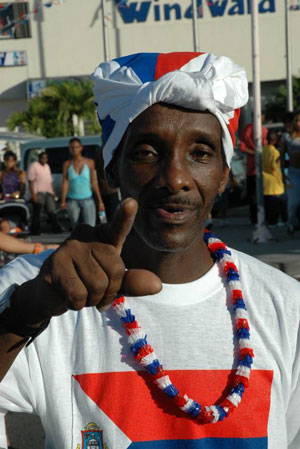 PHILIPSBURG:--- What some may deem just another group joining the bandwagon, for the members of the St. Maarten Guyanese Association (SMGA) it will be the perfect opportunity to get involved for the first time in this year's Carnival, the biggest cultural event on the island.
Since its formation, SMGA has been very community-minded, especially after the passing of Hurricane Irma. When perishable and none perishable items were sent by the Government of Guyana, SMGA did not circulate the relief items among its membership only but shared with people who were not affiliated with the association.
Now in its own meaningful way, the non-profit group intends to make an impact. SMGA made this fact known at a special meeting for troupe leaders hosted by the St. Maarten Carnival Development Foundation (SCDF) at its head office above the WIB Bank on the ATh Illidge Road on Wednesday evening.
Before outlining the purpose of the important meeting, SCDF Parade Coordinator, Gina Illidge took the opportunity to welcome seasoned troupe leaders and bid a special welcome to those who will be participating in the Grand Parade set for April 30 for the very first time.
SMGA will be teaming up with fellow Guyanese Randolph Scott, aka 'Scientist', who is no stranger to the Carnival scene. As recent as 2017, Scotty, as he is called, won the title in the Best Float category. This year, he will not only be concentrating on his showpiece, but will also be lending technical assistance to SMGA.
SMGA will not be disclosing what can be expected, however, it wants all to know that the association's troupe will be maintaining the same theme as the 'Scientist'. SMGA is also extending an invitation to any Guyanese who would like to be involved to call 554-5031, 550- 3689, or 520-6287 to get information on how they can join in the fun.