Local producers, advertisers, invited to participate in Cable TV community access channel TV15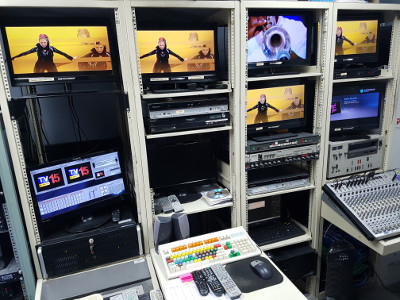 POND ISLAND:--- Cable TV's community access channel, SXM-TV15 made a welcome return to tele-viewers on St. Maarten Thursday with a "soft launch" aimed at attracting the island's popular producers back to the channel.
First of the locally produced programs to return Thursday evening was the SXM Daily News program, produced by well-known videographer and editor, Ricardo William.
SXM-TV15 expects other top producers to follow suit very quickly, based on the demand for the variety of religious, chat, current affairs and documentary programs that have been missing since the channel went dark in December.
Following the passage of Hurricane Irma in September and the formal closing of St. Maarten Cable TV three months later in December, the local TV station is presently being managed by an independent contractor on behalf of TelEm Group.
Thursday's soft launch began at 9:00 am in the morning with regional programs and music videos until 12:00 noon. The channel is back on air again at 4:00 pm with the local news program, SXM Daily News airing at 7:30pm.
SXM-TV15 says it will be holding open all time slots from 4:00 pm until 12:00 midnight each day for local producers who wish to maintain the same time slots they enjoyed before the channel went off the air in December. Should these reserved time slots not be taken up, other producers will have the opportunity to take the vacant spots for their own productions.
The channel's operators have in the meantime circulated e-mails to all former producers informing them of the latest developments and inviting the producers back to SXM-TV15 to air their programs.
The email states that for the next few weeks, SXM-TV15 will be assessing, along with Telem Group, various ways to enhance the TV15 experience to the general public including new investments in equipment.
Local producers, businesses, advertising agencies, church groups, chat show hosts political parties, etc who are interested in having their programs or advertising on the local TV station are kindly requested to contact This email address is being protected from spambots. You need JavaScript enabled to view it. for all inquiries.
SXM-TV15 says it is happy to have the local access channel (Channel 115) back on the air, especially for the many senior citizens on St. Maarten who have been enquiring daily about the return of their favorite local shows.
The channel managers say even in the world of computers with access to unlimited shows and programming from around the world, St. Maarten seniors find still prefer their local shows and will be amongst the first to welcome them back in their Cable TV viewing line-up.
TELEM Group Press Release