Marlin gets astounding support from party supporters.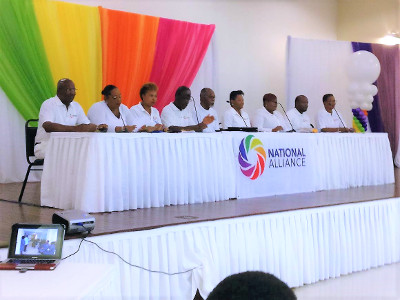 PHILIPSBURG: --- The National Alliance board introduced seven new candidates that will be contesting the snap election called on February 26th, 2018. The NA held its congress Wednesday evening, two days ahead of Postulation Day. The new candidates are: Solange Lyudmila Duncan-York, Anna Rabess-Richardson (former USP candidate), Jelani Gumbs, Leroy Vlaun, Lenny Priest, Edgar Jorendy Doran, and Dennison Phillips. Priest, a former member of the National Alliance, that also led the One St. Maarten People Party (OSPP) and two of his members namely Vlaun and Philips made clear that they could not sit back and watch what was done to the leader of the National Alliance former Prime Minister William Marlin. Priest said he worked with Marlin for years under the SPA and NA and he knows that Marlin is a hard worker and it's the only political party that delivered while being in office.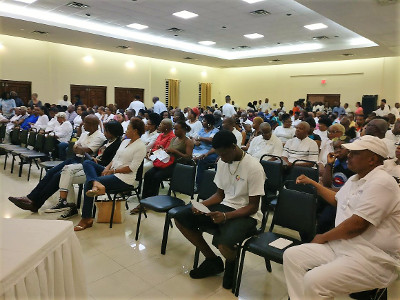 The NA supporters also elected their deputy leader Rodolphe Samuel who will work alongside the current leader Silveria Jacobs. Minister of VROMI Christopher Emmanuel set the rumors to rest when he said that several persons contacted him asking why he opted to leave the NA, Emmanuel said he has nowhere to go and has always stood closely to the party leader former Prime Minister William Marlin. Emmanuel informed the NA supporters that within the next 18 months St. Maarten will have its own Waste to Energy Plant as the LB is already by the Governor for signing. He said when that plant is constructed on St. Maarten consumers will pay a mere 26 cents per kilowatt for energy compared to the 46 cents GEBE is currently charging them. Emmanuel further explained that in another year St. Maarten will have a new hotel as talks have been finalized with the developer and owners of Mullet Bay and that the developers purchased the property for a whopping $6M. He said the building permits for the project have already been signed off and construction will begin in March 2018.
One of the sentiments raised by almost all speakers is the need for voters to head to the polls on February 26th and to give one political party a full mandate as the coalition government simply cannot work on St. Maarten. They indicated that over the years the country has seen too much instability.
Political Parties will be submitting their lists of candidates on Friday to the main voting bureau to contest the February 26th election.