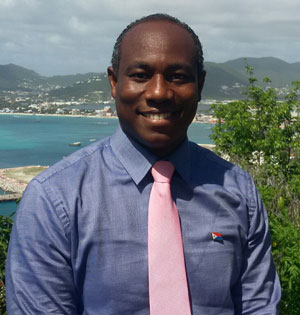 Through this communication the undersigned Mr. Benjamin Ortega hereby informs you that as of the 5th of January, 2018 until 26th of February 2018 a leave of absence from his duties as general member and Vice President of the Board of The St. Maarten Chamber of Commerce and Industry.
This leave of absence is in regard to his intended postulation as a candidate for the upcoming Parliamentary Elections 2018 slated to be held on February 26th, 2018.
"The above stated, although is not a mandatory part of the articles of incorporation of COCI, or whether noted in the bylaws of the Chamber functioning handbook, I see it fit to ensure that the integrity of the Chamber by my postulation is not brought into question at no given moment."
Benjamin Ortega was elected on the board as of April 21st, 2017. And on July 1st, 2017, two months after of being elected to the Board of COCI, Benjamin Ortega was elected by nomination and unanimous vote of his fellow board members as Vice President of COCI.
"I believe that there is much more every member of COCI and the business community can contribute to the economic development of the island and country. As the managing director of a "small business" consultancy firm named I-Novus, of which the name of the company stems off of the Latin word Innovātus, which translate to Innovative or Innovation", we must be more innovative in developing our goals to move forward structurally.
The core drive of Benjamin and I-Novus translates in:
"To be leading in the region with implementation and execution of innovative services and solution for and to our clients".
The reason given by Ortega for participating in the Chamber election last April is: "After supporting various persons and members of COCI during elections, and their time as board members, it was time that my voice be heard and input done from the internal aspect.
"One can choose to assist from a sideline or jump in head first and directly put in the work to better or to improve St. Maarten's economic development. I wanted to make a difference through dedicated work and at the same time gain more experience in this perspective."
Ortega has already identified a number of key areas for development since becoming a board member of COCI. "Considering that I was elected through the small business elections and understanding the small businesses are the key factor to economic growth and stability of a country as St. Maarten helped me further develop personally as a member and entrepreneur."
"I believe that COCI has a lot to offer and has developed various aspects to benefit the especially small business community, yet through proper communication and continuous representation the message can be transferred."
I would like to thank all that supported me in my various endeavors as COCI representation and as Vice President thus far. Although I hope to be elected to the Parliament of St. Maartren, I will always continue to give my structured input to the further development of St. Maarten, whether through COCI or as an Parliament (elected) Member.