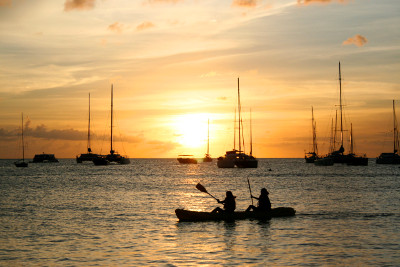 PHILIPSBURG:--- Environmental Protection in the Caribbean (EPIC) is continuing its popular Kayak Tours with a beautiful sunset paddle around the Simpson Bay Lagoon. The event takes place on Thursday, December 28th, from 4:00 p.m. to 7:00 p.m., starting and ending on Kimsha Beach. Participants will be provided with kayaks, paddles, and a life vest as well as a kayaking tutorial before taking off towards the Simpson Bay Lagoon. Beginners are welcome.
During the tour, the group will raft up to appreciate the sunset and enjoy a cold drink before heading back to Kimsha Beach at a relaxed pace. The after party at Buccaneers Beach Bar includes a special burger and drinks deal just for kayak tour participants. A Fire Ball on the beach will keep everybody warm while enjoying the rest of the night.
The price for the event is $25 per adult and $15 for children under 16 years. This includes equipment rental, technical support, and refreshments. The funds will help EPIC to continue to provide education and conservation activities related to the Simpson Bay Lagoon. Small children need to be accompanied by a responsible adult and must bring their own life jacket. EPIC thanks partners at Tri-Sport for sponsoring this event.
Space is limited, to sign up, please send an email to: This email address is being protected from spambots. You need JavaScript enabled to view it. or call +1 (721) 523-4443.
EPIC Press Release