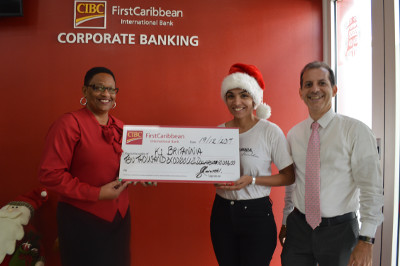 PHILIPSBURG:--- Four local foundations got a much needed financial boost recently.
The four foundations - K1 Britannia Foundation, Helping Hands, Engage Foundation and Meals on Wheels - are known for their community endeavors ranging from aiding foster homes and the less fortunate, to senior citizen care and social development. Their efforts have been even more needed in recent months due to the tremendous need in the aftermath of hurricane Irma.
They shared a USD $25,000 donation from regional bank CIBC FirstCaribbean.
The bank continues to stand with St. Maarten and others impacted across the region. "It shows CIBC FirstCaribbean's long-term commitment to the territories in which we operate and our resolve to do so "hand in hand" with civil society", stated Country Manager, Garth Sherwood.
CIBC FirstCaribbean Press Release