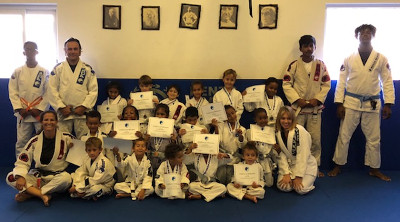 COLE BAY:--- During the second week of December, SXM BJJ held a demonstration and graduation for their youth martial arts programs. Young Brazilian Jiu Jitsu (BJJ) and Muay Thai (kickboxing) students demonstrated techniques in front of family and friends followed by live training (sparring) and promotions.
The winter graduation recognized the hard work of students during the challenging post-Irma academic year. SXM BJJ restarted kids classes on September 25th. While many students evacuated, martial arts training helped the children that remained on island return to normalcy.
17-year-old French side resident Ruben Girault Darteyre was prompted to blue belt in Brazilian Jiu Jitsu by Black belt Professor Melissa Bardfield. Blue belt is the first ranking on the adult belt system and a significant achievement. Ruben had competed as a white belt Juvenile at the highest level- the IBJJF World Championships in Long Beach CA last June where he took home a silver medal.
Jiu Jitsu students who received new belts include the following White/Grey belts: Skyla Richardson, Sonakshee 'Sona' Sidhwa, Izaiah Willems, Dustin Skeete. Grey: Kzar Williams. Grey/Black: Isiaih Arrindell-Peterson, Jaiden Somersall, Jaden Busby. White/yellow: Kaila Black, Megan Whyte, Mathew Stickells. Yellow: Sierra Meyers, Seybian Ortega. Orange/white: Omarion Thomas. Orange: Miles Cheasley, Kevin Robens, Zara Budharani, Adam Comlekciuglu, Lukas Hassall, Keziah Hoeve, Caiyden Marlin, Connor Scripps Ewing, Chantal Williams, Leandro Zabala. Stripes signifying progress were awarded to: Vlad Ahlip, Jean Harold Audebert, Damian Cheng, Khloe Cheng, Topper Jr Daboul, Jaali Galvani, Markus Hassell, Brandaen Illis, Hugo Petit, Selah Romney, Patrick Szabo, Christian van der Horst, Liam Van Windt, Maxwell Somersall, Gia Parisot, Kleyian Carter, Emma Szabo, Eldrick Phebe, Nahjae A. Prince, Grace Cheasley and Julio Alejandro. Adults students Lisa Pelgrin, Carl Delgado, Morgane Robert, Julien Martos, Avish Wijesiriwardana and Sheldon George also earned stripes.
Historically there is no ranking system in Muay Thai, the traditional kickboxing martial art of Thailand. SXM BJJ instructors see the use of ranking is a great motivation for children and a measure of progress. In Thailand, the use of an armband, also known as Prajioud was traditionally made from a torn piece of a mother's sarong (dress or skirt cloth) and tied on the arm before Muay Thai fights for good luck and protection. This tradition was originated during times of war where mothers would see their sons go off to war and offer them good luck and protection. SXM BJJ has adopted an armband ranking system like the kids belt color system of BJJ. All students were awarded an armband by Sensei Akeem Lewis after demonstration techniques and sparring under the watchful eye of Sensei Marco London. Ange Bartoli and Elijah Codrington received white armbands. New white/yellow ranked students include: Jean-Harold Audebert, Yerrick Elsbeth, Diandra Peterson, Melchiah Hazel, Luci Whyte, Lewys Whyte, Dayden Richardson, Brandaen Illis, Khloe Cheng, Skyla Richardson, Sacha Leal, Yael Delille, Anthony Legoubey, Akarsh Bhatia, Kartik Sharma, Alex Boccheciampe, Megan Whyte, Nihal Chugani and Adam Comlekcioglu. Jaali Galvani, Izaiah Williems, Jayden Busby, Jayden Jacobus and Damien Cheng received yellow armbands and assistant coach Kevin Bernard received his orange armband. Sensei Marco London commended Sensei Akeem Lewis's work and the high technical level achieved by his students.
SXM BJJ martial artists are required to have integrity, honesty, courtesy and humility. Students learn fighting skills only to be used in self-defense or organized competitions. Fighting in the street is strictly forbidden. Instructor Melissa Bardfield and Akeem Lewis hold their students by this guideline. The aim of the program is to instill discipline, respect and self-confidence in each student.
SXM BJJ will close for the holidays on December 22 and resume on Wednesday, January 3. For more information or to register contact This email address is being protected from spambots. You need JavaScript enabled to view it. or call 721 580 3894.