The Caribbean Climate-Smart Coalition seeks rapid implementation of US $8 billion climate investment plan that will transform regional energy system, build resiliency, drive economic growth and set a global example.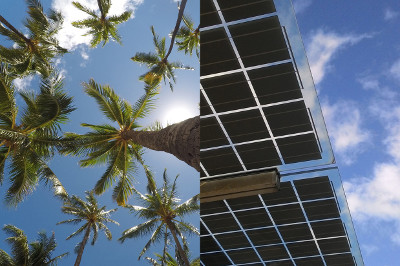 PARIS, France:--- Recent hurricanes have left unprecedented devastation across the Caribbean and it is a traumatic time for all those who live in the region. Whole communities and towns have been decimated, and the global community needs to act quickly and give generously to relieve suffering and help to rebuild.
Alongside the on-going emergency response, Caribbean leaders today announced the launch of a new public-private coalition to create the world's first "climate-smart zone". The Caribbean Climate-Smart Coalition aims to find a way to break through the systemic obstacles that stop finance flowing to climate-smart investments. With the right domestic and international reforms, the world can step up – and help unleash the means to catalyze an ambitious US $8 billion investment plan to bring greater energy and infrastructure resilience to 3.2 million Caribbean households. This would help Caribbean islands to eliminate their costly dependency on fossil fuels so that they can meet close to 100% percent of their energy needs from renewable sources, and to embed resilience into communities and livelihoods to realize the bold ambitions of all Caribbean people.
The announcement came at the One Planet Summit hosted by French President Emmanuel Macron in Paris to review progress made on the Paris Agreement adopted by global governments two years ago today.
The Coalition aims to reinvigorate the islands that have been impacted by recent hurricanes Irma and Maria, and help build more resilient infrastructure and communities across the region as the likelihood of future extreme weather events increases.
Digital News Agency Press Release