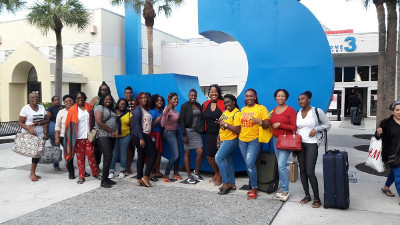 PHILIPSBURG:--- SEL Maduro & Sons- St.Maarten, along with Island Essence Travel Agency of St. Eustatius have done it again! On Thursday, November 23rd, twenty-four excited passengers all dressed in the bright red matching SEL Maduro & Sons T-shirts boarded the American Airlines flight destined to Miami.
The flight landed safely in Miami where a VIP bus service was on standby to welcome the guests. SEL Maduro & Sons surprised the passengers by taking them directly to The Dolphin Mall, instead of to the Marriott Hotel for check-in. At the mall, they experienced an exciting 2-hour shopping expedition followed by another 2-hour shopping spree at Wal-Mart. They literally "hit the ground running".
On Friday 24th November, the VIP Bus Transportation was in place for a timely departure headed directly towards the Sawgrass Mills Mall where guests had 14 hours of uninterrupted shopping........and as expected they shopped until they dropped!" Saturday followed with extensive shopping and fun.
To facilitate our guests with shipping of their newly acquired goodies, Maduro arranged for Carib Trans, Mr. Eddie Andre and his hardworking team, to be at the Marriott Hotel to assist with packing of the barrels, E Containers and D Containers. Carib Trans made their services available to anyone who did not want to worry about excess freight of the airline.
On Sunday it all came to an end as our guests prepared for departure, back to St.Maarten. S.E.L. Maduro & Sons extends warm gratitude to all its' customers, thanking everyone for their support. "We have built new friendships and long-lasting memories" explained Evelyn, the travel advisor of Maduro.
Based on the growing popularity of these group packages, S.E.L. Maduro & Sons is presently introducing all-inclusive group travel packages for the following upcoming destinations:
Save The Dates!
All-Inclusive Trip to Dominican Republic Easter Weekend Thursday 29th March to Sunday 1st April, 2018.
Jamaica 9th May to 12th May, 2018.
Soca Cruise July 2018.
Summer Trip to Cuba July / August 2018.
Summer Family Packages to Orlando / Disney World.
Summer Family Package to Punta Cana / Nickelodeon.
Dominica Creole Fest, 27th to 30th October, 2018.
Miami Shop Until You Drop 23rd to 26th November, 2018.
Reggae Cruise December, 2018.
For further information please contact S.E.L. Maduro & Sons Travel & Shipping Agency, for local and international services. Located at Emmaplein Building # 1, in Philipsburg, St. Maarten. Telephone Numbers: 1(721) 542-3410/2472.
E-mail: This email address is being protected from spambots. You need JavaScript enabled to view it..
S.E.L Maduro & Sons Press Release