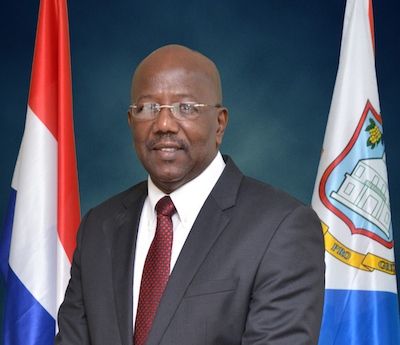 PHILIPSBURG:--- Former Prime Minister William Marlin who is presently off island said on Friday morning that he had never given permission to Minister Lee to put the MR-4 number plate on his private vehicle.
Marlin said he needed to make a public statement about this as he has been receiving messages asking if he did, as seemingly Minister Lee has been making statements that Marlin had given him permission to do so.
Marlin said that when it was discussed in a COM meeting at the Cabinet of the Governor he could recall telling the Minister that it was actually illegal and that if he was to get in an accident it would pose a problem. Switching a plate from one vehicle to another was possible but had to follow proper procedures.
As for the purchase of diesel, the former Prime Minister said that every Minister had a book with vouchers that could be given to each person in his or her ministry who was entitled to fuel. Marlin said that even certain departments were given a book of their own as at that time there was an embargo on the sale of fuel. Gas stations were ordered to only provide fuel to persons with a gas voucher.
Marlin said that he needed to clear the air on this matter before it started living a life of its own.
Press Release from Former Prime Minister of St. Maarten William Marlin