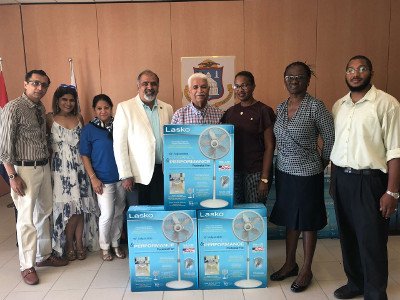 PHILIPSBURG:--- Irma Relief efforts were made by the Indian Merchants Association along with its Distribution Committee in the presence of the Minister of Education, Silveria Jacobs and members of her cabinet as well as Head of the Public Schools, Mrs. Davis and her team.
Bearing in mind all the damage Hurricane Irma had caused to the schools and in order to ensure that the children are able to study in a more pleasant environment, 157 stand fans were donated to the following public schools:
PWAS, MLK, SMVTS, RLS, ORANJE, LCS, MGD.
The presentation took place at the new Administration Building. IMA President Mr. Damu Rawtani, Vice President Mr. Cookie Bijlani, Board Member Mr. Umesh Chellani and Distribution Committee Members Mrs. Hanisha Alwani and Mrs.Poonam Khanna were delighted to help the children of St. Maarten.
IMA Press Release