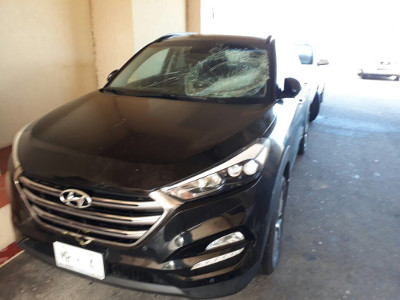 PHILIPSBURG:--- A recently published story whereby Minister Lee was accused of using government fuel bonds to purchase fuel for personal use and misusing government number plate by a blog website is mistaken. "Sadly instead of investing time and energy into rebuilding the country, it appears that efforts will continue to be wasted blaming others and continued attempts at character assassination. I believe this is a sad attempt to discredit, delay or interfere with the screening process for a candidate minister. Unfortunately, I expect that these attacks will continue but I won't let them distract my attention from the true issues on how do we care for the needy people in our country and how to we rebuild our country," stated Minister Lee
Despite attempts to safeguard the government vehicle during Irma, the front windshield of the Minister's car was badly damaged (see photo). This made driving the vehicle unsafe and use would have subjected the vehicle to additional water damage. Since Irma, the vehicle has been covered and unused.
Instead of requesting government to rent a vehicle which would have increased costs for the country, it was decided to use a personal vehicle, a pickup truck as a temporary replacement vehicle.
The vehicle was purchased shortly before Irma, and while properly registered and insured, no license plates were available since government had run out of license plates. Since only authorized emergency vehicles, were allowed on the road and since only authorized emergency vehicles, were allowed to access certain gas stations, it was decided to temporarily place the MR4 license plate on the truck. When recently queried, why not put a "W" on the car and put the MR4 plate inside the truck, it was explained that the back window of the truck was also broken and covered with plastic and concerns were that anything loose inside the vehicle might be stolen. This issue was discussed with the Prime Minister and it was agreed that these were unusual times and for the moment many atypical things were taking place. It was agreed that efforts were better invested in other things and to continue as is until a more permanent solution could be found.
The claim that government gas bonds were used to purchase fuel for private or commercial use is absolutely untrue. "No fuel was purchased on government account and used for any business or my home," stated Minister Lee.
A review of Minister Lee's fuel bond book shows that fuel was purchased on Aug 31. (before Irma) sept 15, Oct 5 and nov 17. All bonds are in sequence and accounted for. On September 15, the purchase included one drum of fuel that was purchased to supply volunteers that were assisting with delivery of relief goods. These volunteers were using their personal vehicles and didn't have a government bond book to buy fuel for their vehicles. A half drum of diesel was also purchased for the same purpose. (This was not on Minister Lee's gas bond book, which is the same book that was issued to him in November 2015 and still not finished.)
Press Release from Minister of VSA Emil Lee
Editors Note: Minister Lee is saying his bonds are accounted for but nowhere in his statement did he show what he used to pay for the diesel on September 12th, 2017 at 9:40 am. The Minister went on to say that the Prime Minister consented for him to switch government number plates on his private truck because of controls, the Minister is in full possession of his identification card as a Minister as well as his Hurricane passes which he could have used. The Minister should have used better judgement when changing the number plates. In the Minister's statement, he said he bought diesel for volunteers, it should be noted that most vehicles cars and SUVs use gasoline and not diesel. This is a matter of integrity which should be of interest to the Dutch Government.