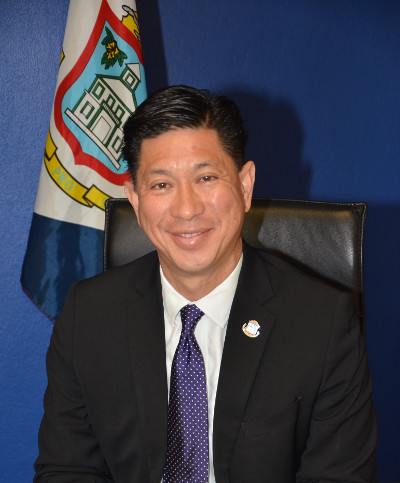 PHILIPSBURG:--- As part of the ongoing effort to provide relief to the members of the community that have been impacted by Irma to the point that they are at risk of not being able to feed themselves or their family, the Ministry of VSA has worked diligently to develop and launch the Temporary Basic Necessities Voucher Program which is a 2 month pilot program. Minister Lee wants to thank the participating merchants - Le Grande Marche, Prime Distributors, Sang's Supermarket, and Sunny Foods - that are supporting the program by providing Government a bulk purchase/community support discount on the total costs.
This program allows persons who have experienced a serious financial setback as a consequence of the impact of the recent hurricanes to receive a voucher valued at NAF 150.-. A family of one or two persons can apply for one voucher and larger families can receive two. Eligible families will receive voucher(s) every two weeks depending on if their situation has changed. These vouchers can be redeemed at participating supermarkets. Vouchers can be used to purchase basic necessities which include food, water, hygiene, and sanitation products excluding tobacco and alcohol products at participating retailers.
Those who wish to apply for this program are advised to report to the new Government Building on Pond Island at the Social services Department Monday –Friday between 8.30 AM and 12 NOON. Applicants will have to fill out an intake form with information on their financial situation demonstrating they are not able to buy food and need to present a valid identification document, such as an ID card, a passport or a driver's license. Only applications of persons or families who suffered a significant fall in their sources of income will be considered for the program. After the applications are submitted and processed, applicants will be contacted with regards to the decision taken.
"This program is a natural evolution of our emergency relief program where food, water, and hygiene supplies were physically delivered to different neighborhoods. The details and approvals for the program have taken a bit of time to finalize but we feel that developing proper criteria, forms, agreements with supermarkets, fraud prevention measures and evaluation processes were critical in developing a program that is fully transparent, accountable, and auditable. We believe that based on the success of this program we will be able to attract other donors to contribute to extend the program, as well as to other social programs currently in the pipeline, for example, a construction voucher program," stated Minister Lee.