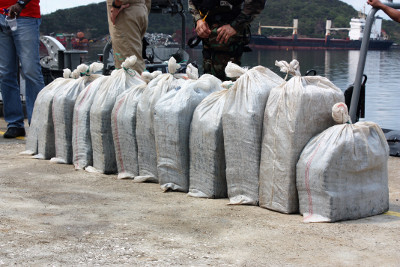 WILLEMSTAD, Curacao:--- The navy ship Zr.Ms. Zealand this week 600 kilograms of cocaine intercepted in the Caribbean Sea. The ship had just left from Curaçao to the Netherlands after a bet of four months as a station ship in the Caribbean. At interception twelve bales of cocaine picked up from the sea. The three occupants of the go-fast were arrested and handed over to the local authorities in Curaçao.
The DASH 9, maritime patrol aircraft of the Caribbean Coastguard (KWCARIB) detected Sunday during a patrol a suspected go-fast 'northeast of Bonaire. The Rescue and Coordination of the Coast Guard Curaçao Center (RCC) informed this Zr.Ms. Zealand which shifted its course. Onsite arrived navy ship struck the suspect vessel with three people on board. The Zeeland put this directly to the NH-90 helicopter gunship and two maritime interceptors in. To this the NH-90 forced the suspect vessel with warning shots to stop. The crew put on it to escape their cargo overboard and tried. With disabling fire on the outboard engines, the fast boat is finally brought to a halt. After a search, 12 bales of cocaine removed from the sea. Zr.Ms. Zeeland is then sailed back to Curacao, where contraband and suspects yesterday afternoon (local time) transmit to the authorities. Then the navy ship set course back to the Netherlands.
Zr.Ms. Zeeland has spent the past four months as a station ship hazards in the Caribbean. During this period, the ship played a key role in providing relief to the Windward Islands and Dominica after passage of hurricanes and Maria Irma. Zr.Ms. From Speijk repays Zealand as the station ship. The multipurpose frigate is on Friday, November 10th to Curacao.