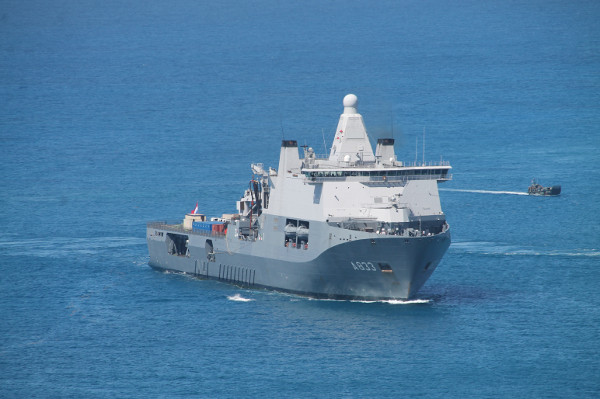 PHILIPSBURG:--- On October 28, 2017, the Joint Logistic Support Ship Zr. Ms. Karel Doorman will dock in St. Maarten for the last time. A variety of relief goods for St. Maarten are on board of the ship. On board of the ship are trucks, beds, digital schoolboards, laptops, temporary shelter houses, medical supplies and equipment, cupboards and printers. Apart from relief goods for St. Maarten, there are also containers on board for Saba and Statia. The containers for Saba and Statia contain mostly goods like furniture, chainsaws, concrete mixers, refrigerators, and stoves.
The marine ship left in September for the Caribbean and is on his way to St. Maarten from Curacao and Aruba, where the Dutch relief goods were loaded on the ship. Since September the ship has done multiple stops in the Caribbean region to deliver and reload relief goods on the islands.
After arrival organizations such as the Red Cross, the hospital, the local ministries and the police can pick up the relief goods that are allocated to them. The offloading of the shipment is organized by the civil mission of the Ministry of Interior and Kingdom Relations of the Netherlands. The Karel Doorman is the biggest vessel of the Dutch navy. The ship is 205 meters long, 30 meters high and 8 meters broad.
BZK Press Release