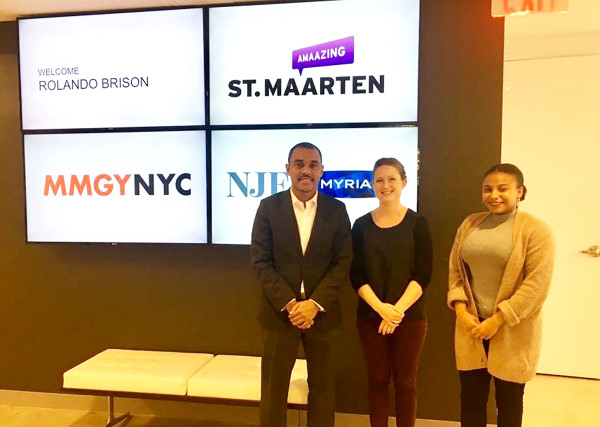 PHILIPSBURG:--- Head of the St. Maarten Tourist Bureau (STB) Rolando Brison is currently taking part in several strategic meetings with St. Maarten's North American marketing firm and other stakeholders to outline and fine-tune the island's short, mid, and long-term plans for tourism recovery in the aftermath of hurricane Irma.
The STB and St. Maarten's North American marketing firm MMGY Global has identified a number of activities that will be initiated in collaboration with stakeholders on St. Maarten and abroad. To kick-off the strategic sessions on Tuesday in New York, Brison and MMGY representatives hosted a conference call with the St. Maarten Hospitality and Trade Association (SHTA) to discuss the short-to-long-term plans, with SHTA offering its opinions and recommendations for immediate and future actions.
Among the issues discussed:
Constant Public Relations should continue to counter the overly negative news that may arise about the destination since the storm.
Continued B2B (Business to Business) approach to ensure that key stakeholders are informed and relay accurate information about the status of the island. Stakeholders should be in a position to assist STB in countering misinformation.
Support of the marine sector representatives who will be at the Fort Lauderdale and Antigua Boat Shows.
Drive awareness of the hotels that are back online.
Continue discussions for the resumption of service of major airlines
Promote the fact that the two main festivals, St. Maarten Carnival and Heineken Regatta will be held in 2018.
Relaunch (in 6 to 9 months) the Trip Advisor, Expedia and other campaigns in order to drive business for the summer
Reshape (in the longer term) the image of St. Maarten to change/adapt the seasonability factor once and for all.
Brison also explained that SHTA and STB are hoping to have just under 50 percent of hotel room inventory during the next 6 to 9 months. He added strategic sessions are also planned with one of North America's biggest tour operators, Apple Leisure Group, on Wednesday. Additionally, sessions will be held with USA Today and other major publications with emphasis on not just destination promotion, "but effectively changing any misinformation about the island that might be out there and at least letting people know of the progress of the destination in terms of recovery."
"We are also meeting with major airlines, including American, Delta and JetBlue, to discuss when these airlines will resume regular service and what it will take for that to happen. Now more than ever it will take all stakeholders, together, to get us back on track as a tourism destination. We know what our potential is, we know our respective sectors. Now we should ensure a cohesive effort to help St. Maarten recover," Brison said.
Brison and Minister of Tourism Mellissa Arrindell-Doncher is also scheduled to attend key upcoming tradeshows such as the Florida Caribbean Cruise Association (FCCA) Cruise Conference and others. "Our presence at these shows, and our interactions with industry executives at this stage of our recovery cannot be overstated and is of the utmost importance," Brison said.
MMGY Global, Inc. is an integrated travel marketing company. It offers industry and brand research to identify the habits and preferences of travelers; develops creative solutions tailored to various marketing channels; deploys integrated plans across various marketing disciplines to target and convert travelers throughout the entire travel experience; and provides outcome measurement tools.
Press Release from Ministry of TEATT