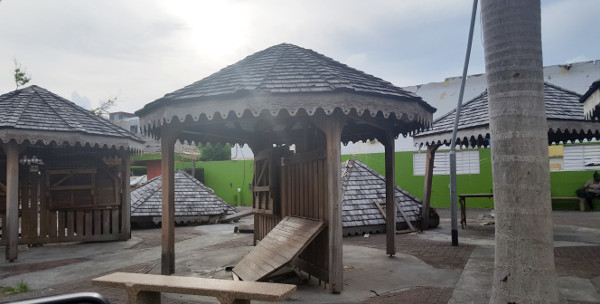 PHILIPSBURG:--- Minister of Economic Affairs Mellissa Arrindell-Doncher on Wednesday explained that the dilapidated Philipsburg Marketplace kiosks are being removed due to unsanitary, unsafe and deplorable conditions of the structures following the passing of Hurricane Irma.
All of the kiosks, which were already in bad shape, took severe damage from the storm, most of which are deemed beyond repair. Some are close to tipping over thus creating a public hazard while parts of the kiosks were also removed by persons to use as construction material elsewhere. Rodents had also become a problem.
The kiosks behind the Court House, next to the old fire station building and next to RBC Bank will all be removed. Ministry TEATT is discussing a plan for the areas as well relocating of vendors.
Press Release from the Ministry of TEATT