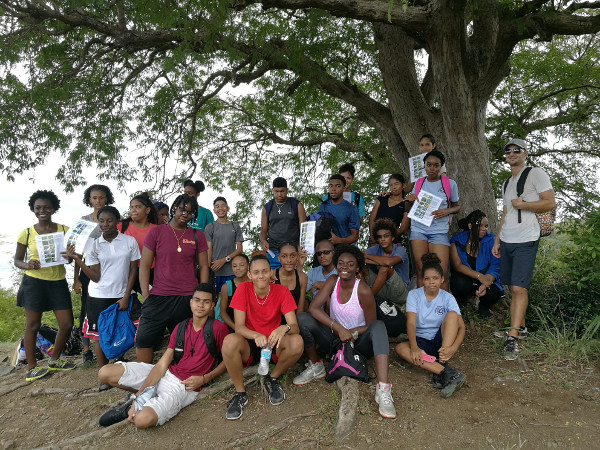 PHILIPSBURG:--- Earlier this summer, Environmental Protection in the Caribbean (EPIC) Foundation began a project to plant native trees at three different locations around St. Maarten (Cay Bay, Sentry Hill and Little Key). Before Hurricane Irma, assessments were conducted to better understand what native plants need to be introduced at each site to increase biodiversity and steps were made to source the plants. The passage of Hurricane Irma has delayed restoration efforts. However, EPIC is now determined to resume the project and plant native trees that are needed now more than ever!
Although the main action of the project is to introduce native trees and increase biodiversity, the focus is on education. A week before the passing of Irma, EPIC reached out to schools to introduce a series of environmental presentations and excursions regarding the importance of biodiversity; many schools had shown great interest. With numerous schools resuming classes, EPIC is offering these activities again. The presentations will also provide an update on the status of the tree planting and can be combined with hikes through the restoration sites and other natural areas.
EPIC offers a variety of presentations and hikes free of charge, suitable for people of all ages including members of schools, churches, community groups or business teams. EPIC is also looking for a group of dedicated volunteers to be involved in a citizen-science portion of the project that involves the planting and maintenance of the new trees. This would be ideal for a school group that can dedicate themselves to visit the sites once a week or every other week. This can also be used towards community service hours. To sign up as an EPIC volunteer, surf over to: https://epicislands.charityproud.org/VolunteerRegistration/Index/78.
This project, "Restoration of Key Biodiversity Areas of St. Maarten", is supported by the BEST 2.0 Programme funded by the European Union. For more information or to get involved and organize a presentation/hike, please contact EPIC's Project Coordinator, Kippy Gilders, at +1 (721) 524-4420 or This email address is being protected from spambots. You need JavaScript enabled to view it..
EPIC Press Release