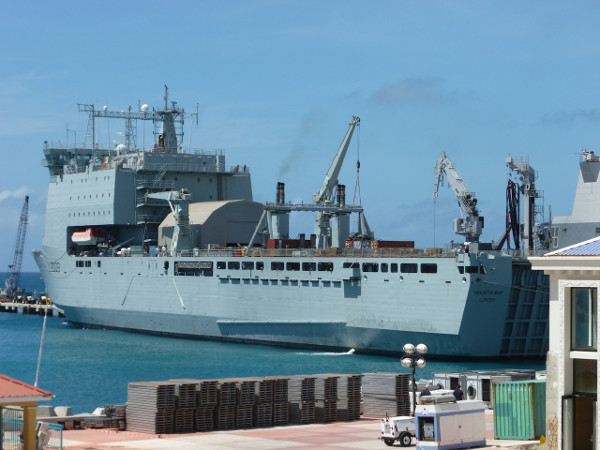 PORT ST. MAARTEN:--- The British Royal Fleet Auxiliary (RFA) Mounts Bay L3008, one of three Landing Ship Docks (LSD), arrived on Monday morning at Port St. Maarten to pick up two fire trucks and seven containers of hurricane relief goods. The aforementioned along with fuel was transferred from the HNLMS Karel Doorman A-833 to RFA Mounts Bay.
RFA Mounts Bay was docked at Cruise Pier Northwest where the Royal Netherlands Navy's biggest ship, the HNLMS Karel Doorman A-833, a Joint Support Ship (JSS), brought in disaster relief supplies along with a number of vehicles for the emergency phase of post Hurricane Irma/Maria on Sunday from the Netherlands.
Port St. Maarten is operational. Port Management said on Tuesday that the Dr. A.C. Wathey Cruise & Cargo Facilities are playing a vital role acting as a logistical hub for disaster and humanitarian relief for hurricane-stricken islands in the North and North-Eastern Caribbean.
In addition, Port St. Maarten Management added, "We can simply maintain that Port St. Maarten is operational with some constraints, but repairs are steadily taking place, and we are on our way to be back at full operational capacity within the shortest time.
"Even with the constraints, Port St. Maarten has been able to maintain its hub function even with the adversity post-Irma and Maria ensuring that relief supplies not only for Country St. Maarten but the neighboring islands are efficiently and optimally being handled through the Ports solid infrastructure."
The United Kingdom's military response to providing vital humanitarian aid and supplies to the Caribbean islands devastated by Hurricane Irma is code-named 'Operation Ruman.' The next port of call for RFA Mounts Bay will be the British Virgin Islands.
RFA Mounts Bay was built by BAE (Naval Ships) at Govan on the River Clyde. The vessel was launched by Lady Band in April 2004 and was accepted into service in July 2006 following extensive sea trials. The vessel is 176 meters long; has a range of 8,000 nautical miles at a speed of 18 knots;
The HNLMS Karel Doorman arrived in port with the single largest consignment of relief goods Post-Hurricane Irma comprising of goods with a total weight of over one million kilos and valued at an estimated one million Euros.
The Karel Doorman with a length of 204.7 meters, is a multi-functional logistical support vessel for amphibious operations that can be deployed to supply units at sea, for strategic sea transport, and for logistical support from the sea, with the ship acting as a seaborne base for implementing and supporting land operations.
The French Amphibious Assault Helicopter Carrier Tonnerre 'Thunder' L9014, recently docked at Port St. Maarten to offload relief supplies for the north side of the island, St. Martin. Thunder is the second ship in the Mistral-class amphibious assault ship series. The vessel was launched in July 2005 and began active service in December 2006.
Thunder has a length of 199 meters; a range of 6,700 miles at 18.8 knots or 12,300 miles at 15 knots.
Port St. Maarten Management would like to reiterate that the Captain David Cargo Quay is open for relief aid and supplies, but also building supplies and commercial cargo which are essential to the rebuilding effort.
For the importation of goods, Port St. Maarten's Management advises private consignees to follow-up with their usual cargo agents to regulate the aforementioned.
U.S. cargo to be sent to the island as normal are to be shipped via Tropical Shipping, King Ocean and Seaboard Marine Line.
European cargo bound for country Sint Maarten normally is shipped via CMA-CGM and Seatrade StreamLines, and arrangements should be made via those companies with their respective local agencies.
Port St. Maarten Press Release