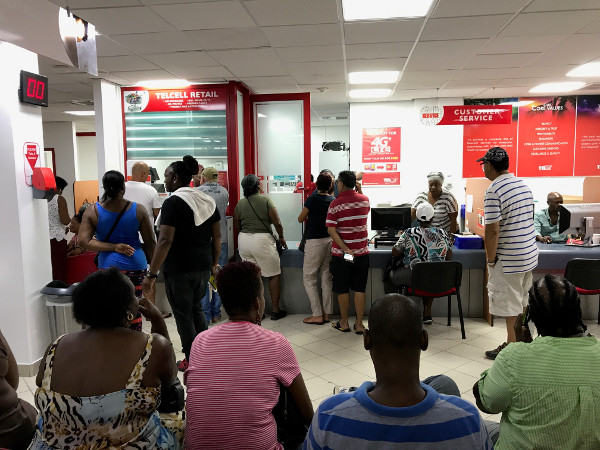 POND ISLAND:--- TelEm Group's mobile provider, TelCell, says its network recovery efforts are going well in the wake of two major hurricanes causing massive damage throughout the company's telecommunication networks.
As of Monday this week, TelCell has 21 of its 31 major cell sites back in operation with the remainder scheduled to come online during the course of this week.
According to Manager, Network Operations, Julien Lake, personnel have been working around the clock since the passage of the two storms to keep customers connected with their loved ones on the island and overseas.
"There is some congestion in some locations especially during peak hours," said the Network Operations Manager, who said the TelCell Network is also having to cope with a host of new customers who have been signing up for TelCell mobile voice and Data services during the past several days.
TelCell customers and the general public have been very complimentary about the mobile voice and data network for staying up during the worst of both storms and providing them with reliable connections when especially needed after the storms.
"There was a lot of work to be done, but we are very pleased with how quickly we have been able to restore such a large part of our network for customers," says Chief Technical Officer (CTO) Mr. Eldert Louisa.
He said that now that majority of the cell sites are up and working technicians will start with the fine-tuning of cell sites to better cope with the large demand of customers to minimize the amount of congestion on the network.
"Subscribers with data service who are having difficulties because of congestion in any particular area can switch their Smartphones between 2G, 3G or LTE/4G and possibly access a different part of the network that can work better for them," said Mr. Louisa,
Meantime, TelEm Group this week informed subscribers that due to damage to the Post Office, the company will be e-mailing bills to customers wherever possible.
The company is urging customers to put monies aside for payment of their due or upcoming bills and to come in to make payments even though they have not yet received a bill.
"Since some customers may not be contactable by e-mail and also because the Post Office may be unable to deliver their bill within short, we want as much as possible to avoid landing customers with two bills at the same time, therefore, we will provide a printout of the current bill for customers who come in to request one," says TelEm Group in a message to customers.
TelEm Group Press Release