ST. JOHN'S, Antigua:--- LIAT will continue Relief flights out of Dominica, Tortola and St. Maarten from Monday 25th to Saturday 30th September: This schedule will be updated weekly on Sundays as long as Relief flights continue.
The schedule is as follows: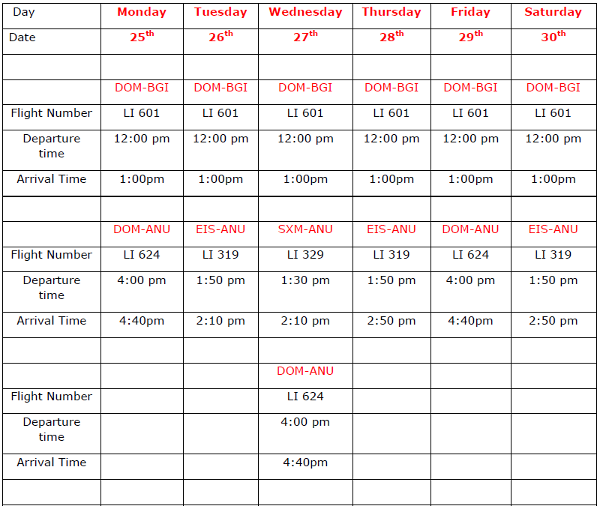 At this time LIAT is unable to carry commercial passengers into Dominica and St. Maarten.
For paid passengers who have tickets from Dominica, they will have priority on flights out of Dominica. All other passengers can call Reservations and be listed on a standby basis. LIAT will not accept payments for tickets on the day of travel.
LIAT is now able to take limited passengers into Tortola. To enter Tortola, the passenger must be a resident or citizen of the British Virgin Islands. Only persons with proof of residency or citizenship will be allowed to connect. At this time, we will not accept persons with work permits until there has been a clear directive from the Government of the British Virgin Islands.
Persons are asked to contact our Reservations Department for more information and to make bookings on these flights.
LIAT will carry only relief supplies as cargo into these destinations. Relief supplies destined to Tortola and Dominica must be addressed to the Government of the BVI and the Commonwealth of Dominica.
For further information please contact LIAT Cargo. Please note that all rules relating to the carriage of cargo including dangerous goods must be strictly complied with.
LIAT Press Release