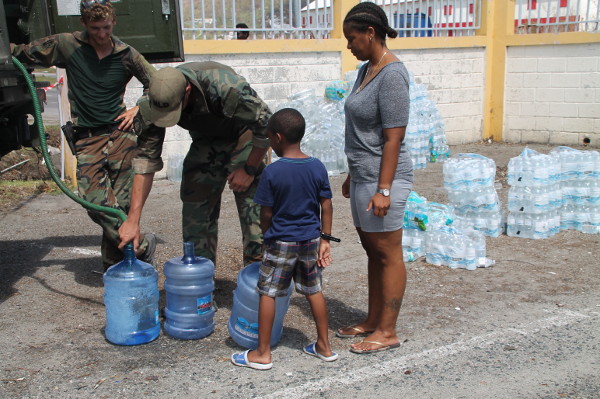 PHILIPSBURG:--- Prime Minister The Honorable William Marlin of Sint Maarten releases the following briefing on the infrastructure, along with words of thanks. Please note that all was current at press time and is subject to change as work and talks progress.
ROADS
Main roads are cleared and work continues on inner roads to the districts.
ELECTRICITY / WATER
Several districts have received electricity and water thus far. Emphasis and priority is being placed in this regard also for the schools to receive the same.
TELEPHONE / INTERNET SERVICE
Major telecommunication services including TELEM and UTS is functioning, however with some sporadic service. It is recommended to download WhatsApp on your smartphone if at all possible for quick communication, as SMS is taking much longer to go through.
TELEVISION
Cable television provider is not operational, however streaming via Internet is up and running.
RADIO
Two major radio stations are operational: PJD2 (102.7 FM) and Laser (101.1 FM). Indications from the regulatory body, Bureau Telecommunication is that early next week other radio stations will soon be broadcasting.
SUPERMARKETS
Several grocery stores are open within the curfew, and more are opening on an ongoing basis to service the community. Please report price gauging to This email address is being protected from spambots. You need JavaScript enabled to view it..
GASOLINE
Gasoline stations were allowed to be open within the curfew, providing service to emergency vehicles and the general population.
CURFEW
The curfew between Sint Maarten and Saint Martin has been synchronized. Authorities from both governments have agreed that effective Sunday, September 17, 2017, non-emergency pass holders are prohibited from being on the streets between 7:00 p.m. and 6:00 a.m. local time until further notice. Emergency pass holders are defined persons holding valid disaster team passes from Sint Maarten or Saint Martin. Though checkpoints will be at all borders, this does not prohibit the free movement between each side of the island, but it will enhance the protection of the citizens on the island and of course, provide ease of transportation for residents and family and friends during this difficult time to both sides of the island.
DROP-OFF POINTS FOR CHARITY CONTRIBUTIONS
Efforts are being made in each district of the island on a daily basis to provide food and supplies to the population. As indicated by the Police Force of Sint Maarten, this is progressing well without incident.
FOREIGN AID
In support of coordination, USAR.NL collects requests from local disaster management and donor offerings in the Coordination Center of the Government of Sint Maarten. In this Coordination Center, USAR.NL and local volunteers work together with government employees and communication staff. In cooperation with the local government, priorities are set and the offer is tailored to the demand. To provide or receive aid, persons or organizations can use the email address: This email address is being protected from spambots. You need JavaScript enabled to view it.
AIRPORT
The Princess Juliana International Airport is receiving cargo flights and humanitarian flights. Commercial flights are not being authorized at this time, however, we realize that many individuals do need to come to the island to assess property and see family. We will be updating on this soon.
PORT
The Port Facilities of Sint Maarten received some damage but cruise ships and cargo vessels conducting humanitarian efforts are docking at the port and assisting in taking persons to other destinations.
HOSPITAL/ MEDICAL
Sint Maarten Medical Center received damage during the storm but is operational. The Lab services (SLS) are also up and running. General practitioners and pharmacies are open daily to the public on a rotating schedule.
WORDS OF THANKS
The government of Sint Maarten is extremely grateful for the support of the people of The Netherlands. On 15th September 2017, a total of €13,3 million was raised in The Netherlands during a day-long national event, Nederland helpt Sint Maarten telethon. Prime Minister The Honorable William Marlin commented that he was immensely moved when he heard that Dutch children had emptied their piggy bank to be able to donate to the hurricane victims on Sint Maarten. "It is an unprecedented outpouring of support in the face of disaster. This funding will allow us to serve our community with the reconstruction and rebuilding that our country needs", the Prime Minister said. "With it, we can get the people of Sint Maarten back into their homes and back to work. The support will provide essential materials, supplies, and services to our community. It will aid our disaster relief efforts and support the good work of our relief organizations in helping to rebuild our nation. We are proud of their tireless dedication and work they are putting in to help those affected."
DCOMM Press Release