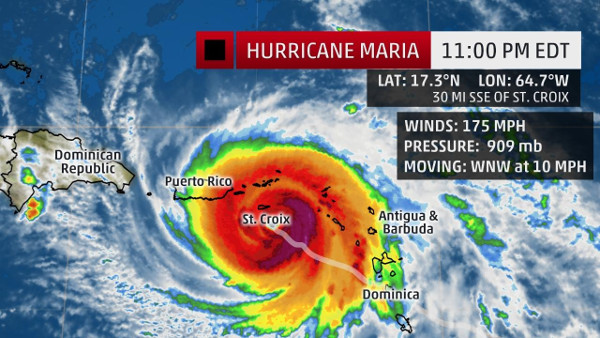 Hurricane Maria, a Category 5 on the Saffir-Simpson Hurricane Wind Scale, is closing in on a potentially catastrophic strike on the already storm-weary Virgin Islands and Puerto Rico, following a first-on-record Category 5 landfall for the island of Dominica Monday evening.
The National Weather Service office in San Juan, Puerto Rico, warned of "catastrophic damage" from Maria's winds, as well as "life-threatening rainfall flooding having possible devastating impacts" in a hurricane local statement issued Tuesday evening.
Maria's center is currently located about 50 miles south-southeast of St. Croix in the U.S. Virgin Islands and is moving west-northwest at 10 mph.
A hurricane warning remains in effect for the U.S. and British Virgin Islands, Puerto Rico, Culebra, Vieques and in the Dominican Republic from Cabo Engano to Puerto Plata.
A tropical storm warning has been issued for Saba, St. Eustatius, St. Maarten, Guadeloupe, from west of Puerto Plata to the northern border of the Dominican Republic and Haiti and from west of Cabo Engano to Punta Palenque in the Dominican Republic.
A hurricane watch has been hoisted for the Turks and Caicos Islands and the southeastern Bahamas. Hurricane watches also include Saba, St. Eustatius, St. Maarten, St. Martin, St. Barthelemy and in the Dominican Republic from Isla Saona to Cabo Engano.
Maria rapidly intensified Monday thanks to a combination of low wind shear, a moist atmosphere and warm ocean temperatures.
A report from a U.S. Air Force Reserve Hurricane Hunter mission Tuesday evening confirmed Maria was still strengthening as maximum sustained winds increased to 175 mph and central pressure dropped to 909 mb, a lower pressure than Irma had at any time.
This is the lowest pressure for any Atlantic hurricane since Hurricane Dean's 905-mb minimum central pressure in August 2007. It is also the 10th-most-intense hurricane in Atlantic Basin history, based on minimum central pressure.
Next up for Maria is a potentially catastrophic strike on the Virgin Islands and Puerto Rico.
Leeward Islands Impacts
Hurricane Maria made landfall on the island of Dominica at 9:15 p.m. EDT Monday evening as a Category 5 hurricane with maximum sustained winds of 160 mph.
Hurricane-force winds may persist in portions of the hurricane warning area in the Leeward Islands Tuesday evening. This includes some locations in the northern Leeward Islands that were devastated by Hurricane Irma.
Additionally, bands of heavy rain on the eastern flank of Maria may wrap into these locations at times, accompanied by tropical-storm-force wind gusts.
A storm surge of up to 7 to 11 feet above normal tide levels was expected in the hurricane warning area.
High surf and dangerous rip currents are impacting the Lesser Antilles and will persist even for a day or so after Maria's center passes by.
Rainfall totals of 10 to 15 inches are possible in the central and southern Leeward Islands, with locally up to 20 inches in some spots. That has the potential to produce widespread, life-threatening flooding and mudslides, particularly on mountainous terrain.
Maria is also expected to produce 4 to 8 inches of rain, with locally up to 10 inches, over the northern Leeward Islands from Barbuda to Anguilla.
Two to 4 inches of rain, with locally up to 6 inches, can be expected in the Windward Islands and Barbados.
Weather.com Report
The approximate Closest Point of Approach (CPA) is located near 16.8N, 64.0W or about 103.8 miles (167.0 km) from St. Maarten/St. Martin. This is corresponding with the 0 hour position of the 5-day forecast. Info from www.stormcarib.com.