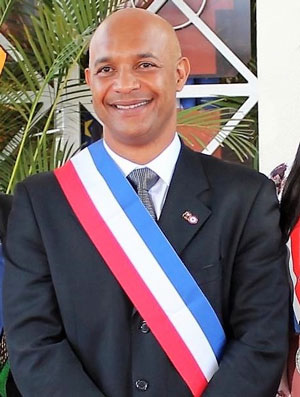 PRESIDENT'S PROHIBITION OF MOVEMENT AND ROAD TRAFFIC
The President of the Collectivité of Saint-Martin informs you that the road from Sandy Ground (from the bridge to the MJC) will be closed to traffic on Thursday, September 14, 2017 and Friday, September 15, 2017, from 9 am to 4 pm to allow cleaning trucks and vehicles to finish removing bulky items on the Sandy Ground area.
A second decree of road-closing will be taken for the St James area from the Bellevue roundabout to the "Doigt de gant" on Saturday, September 16th, 2017 and on Sunday, September 17th, 2017 from 9 am to 4 pm to facilitate cleaning in this downtown area.
A third interdiction will be taken for the Low-Town area in Marigot-St James on Monday, September 18th, 2017 and Tuesday, September 19th, 2017 from 9:00 am to 4:00 pm also to facilitate cleaning in this downtown area.
PEOPLE ARE ASKED TO TRAVEL ON ROADS ONLY FOR EMERGENCY AND TO LEAVE THE ROAD SYSTEM ACCESSIBLE FOR CLEANING.
VOLUNTARY DEPARTURE TO GUADELOUPE AND MARTINIQUE
Several ways exist to leave the territory:
Military aircrafts make free flights to Martinique from Princess Juliana airport for those who wish to return to Europe via Martinique. A checkpoint is in place at the border of Cupecoy to let European passport holders access the airport.
From Grand Case Airport: Planes are also flying to Guadeloupe and Martinique. To take one of these planes, you have to go directly to check point before Grand Case Airport (facing former Simply Market).
Also, a 450-seat boat will connect Saint-Martin-Port de Galisbay to Pointe-à-Pitre in Guadeloupe,
The ship will leave Saint-Martin Thursday, September 14, 2017 at 8 am, from the dam of the Marina Fort Louis. People concerned have to be on location for 6 am.
To be able to leave on this boat, it is imperative to register prior to the date of departure. Every day a reception point is open from 8:30 am to noon at the Robert Weinum school campus in La Savane (Cité Scolaire) and another at the Collectivité Front Desk in Marigot from 8:30 am to noon. It is possible to carry luggage and animals.
If the demand is strong, other boat trips to Guadeloupe will be organized on the same principle.
OPENING OF 5 PUBLIC INFORMATION POINTS:
Sandy Ground MJC
Concordia - Media Library
Robert Weinum School Complex
Primary School St Maximin Orleans area
Collectivité Administrative building
These points inform the public about the various support schemes in place.
DISTRIBUTION OF WATER AND FOOD PRODUCTS
Several distribution points are now organized throughout the island. Three fixed points:
In front of the gendarmerie of French Quarter from 9 am.
In the parking lot of Hope Estate from 9 am
In the parking lot of the ferry terminal in Marigot, from 9 am.
Distribution points are also organized in the neighborhoods with water and food distribution.
EMERGENCY ACCOMMODATION ON THE TERRITORY
People who need emergency housing in Saint-Martin must register at the information offices mentioned above. The Social Department will take over the registrations before the end of the week.
COLLECTVITE NEED VOLUNTEERS AT THE PORT OF GALISBAY
The port of Galisbay needs volunteers to unload containers and load distribution trucks with food and water supplies. Those who wish to contribute to the scheme can go directly to the port and ask for the coordinator of the distribution Territorial Councilor Marie-Dominique RAMPHORT (RAMFOR).
The President of the Collectivité M. Daniel GIBBS warmly thanks you for your contribution.
DISCLOSURE OF INSURANCE CLAIMS:
The deadline for notification of your insurances claim is October 30, 2017. This process must be done with your own insurer. For those insured with Allianz, two emergency numbers are now available: 0800 85 15 15 and 0800 00 58 52.
An internet address has also been created: allianz-assistance.re
INTERNET HOT SPOT
Two Free Internet Hotspots are open :
Marigot – République Road – In front of Dauphin Telecom shop
Hope Estate commercial area, on the side of Rond-Point de Cul de Sac
Press Release from the Collectivity of St. Martin