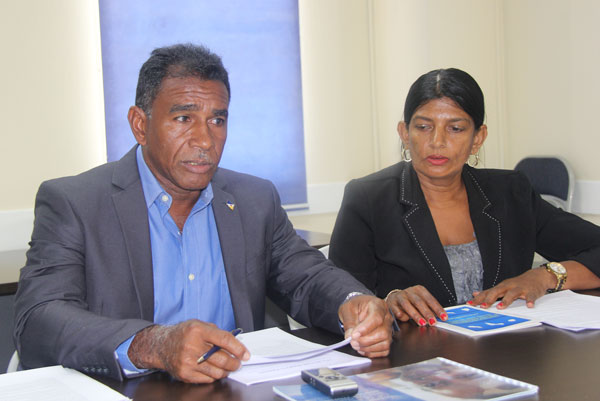 PHILIPSBURG/BONAIRE:--- James Finies an activist on the island of Bonaire who is on St. Maarten for the COPAL conference told SMN News at a press conference on Wednesday that he has dispatched a letter to the King requesting that he live up to his word and give the people of Bonaire the right to self-governance based on the UN charter. Finies said that he began this struggle to free the people of Bonaire way before the Netherlands Antilles was dismantled in 2010 and the Kingdom chose to add the Saba, St. Eustatius and Bonaire as part a municipality within the Kingdom without holding a referendum. He said after 222 days protesting in front of the Government Building in Bonaire the referendum was granted and 65.5% of the voters chose to have self-governance based on the UN charter on human rights.
Finies and Mrs. Davika Bissessar said that the people of Bonaire have been oppressed since 2010, however, they also claim that there are at two cartels on the island that basically sold out Bonaire.
Both activists said that ever since the status change the people of Bonaire are suffering immensely as prices on food skyrocketed while a number of taxes have been added to properties, one being property tax which the people of Bonaire never had to pay.
Finies said that Bonairians worked hard and what they did was build houses and other properties with their monies in order to survive but today they are oppressed. He said the Chinese and the Dutch cartels took over as they are the ones making monies on Bonaire.
Finies said that even though a referendum was held on Bonaire and the people spoke loud and clear, politicians in the Netherlands have refused to accept the wishes of the people and chose to even step on democracy.
He said when the King visited the island in 2013 he met with him along with Minister Plasterk and pleaded with him to give back the island of Bonaire to its people based on Article 73 of the UN charter. At that meeting, Finies said that the King promised to grant the people of Bonaire their wishes and since the Dutch politicians chose not to respect the outcome of the referendum he has no choice but to place the matter in the hands of the King.