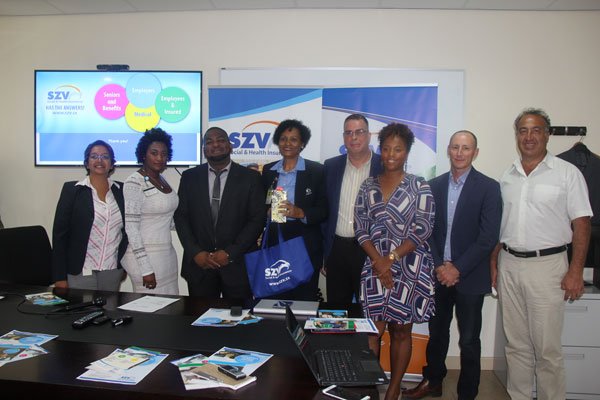 Employers can now register their companies and employees via SZV website.
PHILIPSBURG:--- The medical insurance company SZV is continuing with their campaign while building their network to be more customer-friendly in order to get employers and all other stakeholders to register their employees and also work together with SZV to improve healthcare on St. Maarten.
At a press conference on Thursday the management team of SZV told reporters that besides handing out booklets and their walk-in on Wednesday's they have now moved to another level whereby employers can register their companies and workers online.
The first company to participate in the pilot project was PJIAE whose representatives Geraldine Samuels said that registering employees on SZV website is very useful for employers. Samuels told reporters that registering employee's online saves employers' time while paying their premiums by wire transfer has made the entire process easier.
Director of SZV Glen Carty said the staff of SZV are working very hard to ensure that SZV is up to par by ensuring that employers fulfill their obligations by ensuring that all employees are registered whether or not they are residing legally or illegally on St. Maarten.
Carty said that while they are making progress it is not at the speed that they would have liked. He said despite that the staff of SZV are working tirelessly to get SZV at 3.0 which will provide quality healthcare on St. Maarten.
Customer Care officer Parveen Borsje said that their journey entails more than one characteristics, it is a set of challenges that they are trying to work on simultaneously especially because they know the need of the community is relevant. Borsje said they did a customer service survey in 2015 and 2016 and the results show that they are cautiously improving. Borsje admitted that they still have challenges with waiting time, communication, and the management of the different stakeholders.
Borsje said SZV has now launched their simplified customer services concept which is a hassle free experiences which the organization is striving for the community of St. Maarten. Borsje said SZV invested a lot in their staff in order to bring them up to par to deal with their clients when they approach SZV office. She said that the employees in front that deals with customers are now equipped to provide them with all the relevant information they need and not having the clients go from one desk to the next. Borsje said that they did a lot to improve their communications especially informing customers about the laws they have to follow.
Carty further explained that even though employees are paying their premiums to the employers if they are not registered at SZV it means those employees are not insured. Carty said even though they are doing everything possible to accommodate the employers by getting them to register all their staff SZV still have their team of controllers who would time and again make spontaneous controls to see if the employers declared all their employees.
Asked if employers are settling their debts since SZV had announced that they have over NAF2M on the road. Carty said that employers are now approaching them and they are making arrangements with these employers while SZV is still trying to collect data from the system they inherited from Curacao to see exactly how much monies is owed to SZV. While the management of SZV could not say how much of that monies have been collected because they do not have the required tools to track the payments. Carty said compliance has been improving.
Asked if SZV is working on improving or revamping its medical referral department and ensuring that customers get quality health care, an opportunity for second opinions when they are being diagnosed. Carty said they are working with stakeholders, SZV is not the medical institution and as such, they have to work with General Practitioners and the St. Maarten Medical Center. He said these stakeholders have to work with SZV in order for patients to receive the quality care they deserve. He said SZV is also working with specialists on the French side and they are busy adding more specialists to their list in order to give patients the care they need. While it was made clear that SZV cards are not yet accepted on the French side but SZV is working heavily on getting all stakeholders on board to improve health care.
SZV will NHI services --- auditing of employees on hold.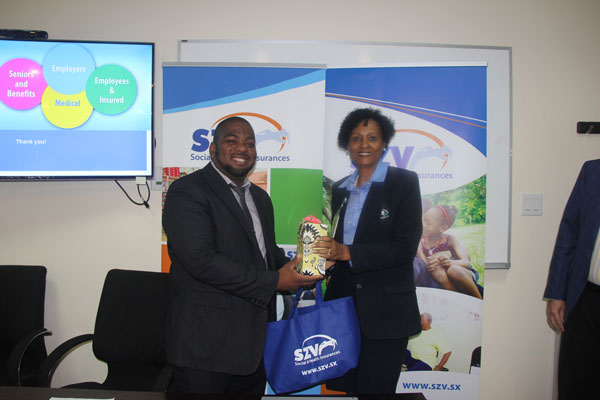 Asked about the audit that SZV was conducting on the qualifications of their employees since the institution has people in positions that they are not qualified for. Carty said that process that was handled by the Human Resources Department had to be placed on hold since they did not know if SZV will be the institution that will be executing the NHI with conditions. Carty said now that has been made clear to SZV the process will continue and those employees that are not fully qualified will either get proper training or move them to other positions where they could function optimally.
Asked if SZV could handle the NHI knowing the current state of the institution Carty said that NHI will not be ready for execution until 2019. He said he was involved in several projects to build back St. Maarten. He said during hurricane Luis more than 80% of the island was destroyed and he was part of the rebuilding of St. Maarten, thus he knows that SZV will be more than ready to execute the NHI as he always likes to be part of the winning team. Asked if he will be in the director seat until then since SMN News got word that the director position will be publicized in the very near future. Carty said that SZV is working from a book which serves as a guideline. He said that he is hoping and will also request that the guideline is maintained. He said whenever the board or the Minister feels that his job at SZV finishes then it is good with him as long as the guidelines he and his management team worked on stay in place.
The chairlady of the supervisory board Sharine Daniel and one of its member Michel Deher were present at the press conference. Asked if the supervisory board has taken a decision on keeping its current director indefinitely or if the position will be opened since the current director Glen Carty has another full-time job and SZV do need someone full time on board to clean up the institution in order to provide better services. In responding to the question Daniel said that Carty answered the question perfectly and that whenever the board takes the decision to open the position it will be made known to the general public.