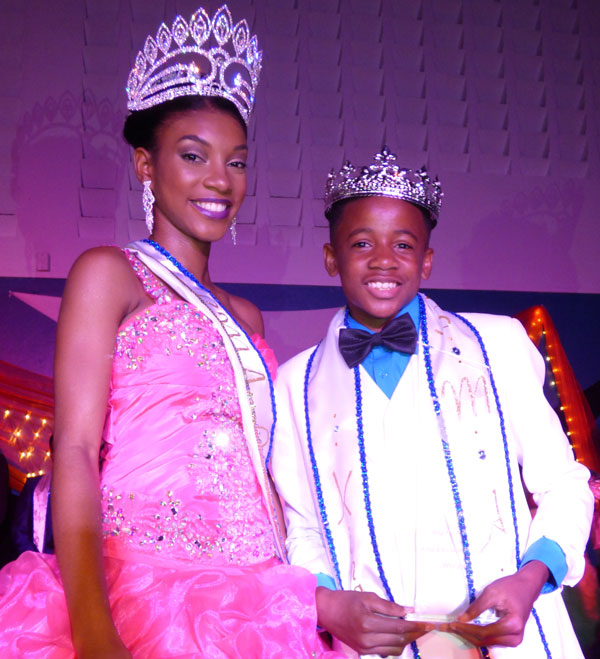 PTF Facebook page generates more than 12,000 views
CUL DE SAC (May 14, 2017) -- She gracefully sailed her way on to the throne yesterday morning and with an almost clean sweep in all the segments, 15-year-old Shaneisha Robinson became the first St. Maarten Academy queen in close to two decades. She won 'Best Female Academic Student', 'Best Female Introduction Speech', 'Miss Photogenic', 'Best Female Talent', and 'Best Female Evening Wear'.
Copping the coveted spot as king was 14-year-old Raheim Fleming, who wowed the audience with his rendition of Michael Jackson's 'Man in the Mirror' to win 'Best Male Talent'. He also received the nod for first place among the boys in the 'Question and Answer' segment.
Among the prizes awarded to both the king and queen - two Form Two students - were a scholarship for the 2017-18 academic year from the School Board and the Parent Teachers Foundation (PTF), two HTC phones sponsored by Telem Group of Companies, an all-inclusive stay for two at Sonesta Maho Resort, and gift baskets from Penha. Shaneisha also won a pair of pearl and diamond earrings from Diamond International, as well as a lunch or dinner from Beruit Authentic Cuisine Restaurant for having sold the most tickets for the pageant.
Coming in as First Runner-up were Form 3 Science students Jheirhen-Armani France and Shanine Lee. Both Jheirhen-Armani and Shanine received tablets from Blue Point, gift certificates from Holland House, pedicures from Angelic Touch Salon and gift baskets, compliments of Avon. France also won 'Best Male Academic Student', 'Mr. Social Media', and 'Best Male Creative School Wear' and secured additional prizes of a $50 gift certificate from Mark's Place and a UTS phone card.
Second Runners-up King and Queen receiving gift certificates from Shop and Take Electronics and Vandorp, lunch or dinner from Pineapple Pete's and manicures from Indulgence by the Sea were Form 2 student, Jose Cruz Nunez and Form 3 student K'nisha Radjouki, respectively. Jose won 'Best Male Evening Wear' and Mr. Photogenic'; while K'nisha copped the top spot among the girls in the 'Question and Answer' segment.
Fourteen contestants entered the pageant, the first to be hosted by the PTF after a hiatus of close to 20 years. All of them received jewellery from Helena Jewellers. The 'Miss Social Media' prize went to Form One student Declashey Jeffers, while Form 3 student Dawud Chapman received the nod for the 'Best Male Introduction Speech'.
The other contestants who gave strong competition were CAPE first year student, Brandon Blake; Form One songbird Beyoncé Williams; Form 3 Science student, Angel Morel; Form 3 Business students Shavelle Lawrence and Kai Morton; and Form 4 Business student Russhawn Shirley.
One of the strongest areas of competition took place on the PTF Facebook page, which had more than 12,000 views in the 10 days leading up to the contest. Contestants were encouraged to share and generate likes in order to win Mr. and Miss Social Media.
The new queen, whose career aim is to become a lawyer, took to social media Sunday to thank all her sponsors and well-wishers.
"It is an honor to be crowned your 2017-2018 Miss St. Maarten Academy. Special thanks to everyone who congratulated me for this big achievement, but in return, I would like to congratulate my fellow contestants...on a job well done at showing excellence as its best and making this show a great success because we are Academy students! One important thing is that the crown doesn't define moral beauty or courage. It was all about having fun. To everyone on the PTF, Mrs. Lucas and Mrs. Baly, my sponsors, classmates and especially Homeroom teacher Ms. Jacobs, job well done! Continue to help us as St. Maarten Academy students to show school spirit and to live by our motto of caring, learning, achieving, excelling, and spreading our fame," Shaneisha said.
According to PTF President Mr. Elroy Hughes, such a successful event could not have been possible without the generous assistance of many companies and people.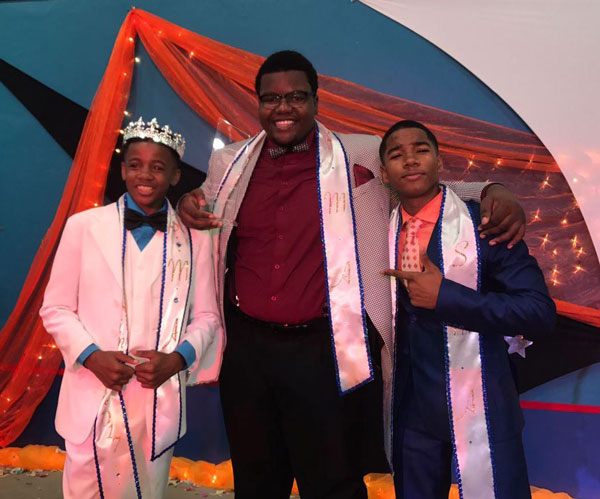 "The support of Cornerstone Solutions in building the PTF website free of cost and assisting with the graphics and designs of flyers and tickets, the principal and Hygenix donating the cash for the crowns, other companies such as Omni that donated cash, Artistic Drive doing free photo shoot of the contestants, and Rent-A-Sound providing lighting for the event, really tells us that there are still many persons and organisations out there willing to invest in our young people. For that, the PTF is eternally grateful," stated Hughes, who himself helped sponsor materials and paint for the stage.
Initially pegged to take place in the open air of the school's courtyard, the pageant had to be shifted to the gym - a decision that was taken Thursday night after the island experienced inclement weather. Immediately, Malachai Construction came to the aid by building a stage and catwalk in less than 24 hours.
Ms. Ana Rabess-Richardson, founder of Posh Productions and a former Ms. Mature Queen (2014), Miss Anguilla (1996/97) and Junior Carnival Queen (1998), jumped onboard from the beginning, providing sashes for the contestants and some of the materials for building the stage. She was also one of three judges for the Queen category of Saturday night's pageant. The other two judges for the girls included Ms. Cassandra Weekes, a former Miss St. Maarten (1995), who is also Vice President of Posh Productions and a member of Be the Change Foundation; and Director of the National Institute of the Arts (NIA), Mrs. Arlene Halley, herself a dance instructor, educator, and choreographer.
The evening also marked a proud moment for St. Maarten Academy and Mrs. Halley to watch a dance by Naomi Warsop and Zacquel Phipps, two NIA students who were recently selected to perform in Europe. Warsop is among the first students on St. Maarten to sit the Caribbean Secondary Education Certificate (CSEC) Theatre Arts examination currently ongoing.
The seven boys who competed in the King category were judged by beauty expert and stylist, Mr. Miguel Alexander; Director of Kids Unite Daycare, choreographer and dancer, Mr. Rudy Davis; and Creative Advisor and Managing Director of DLG Enterprises and SXM Party Rentals, interior designer, songwriter, producer, and singer, Mr. Dion Gumbs.
Principal Tallulah Baly-Vanterpool said she was immensely proud of the young scholars who competed in the five-hour long pageant, as they showcased Academy with pride and grace. They showed what school spirit was all about. She also commended her hardworking teachers and staff, especially pageant coordinator Ms. Sharon Layne, who copped Ms. Mature Queen (2012).
Among the other sponsors for the event were NAGICO, Windward Islands Bank, North Eastern Insurances, Orange Grove Pharmacy and DJ Sound System. Some of the other entertainers for the evening were Kenyo Baly and King James, who wowed the crowd.
This is the second major activity being hosted by the PTF this year, the first being a highly-successful Family Cultural Fun Day. Already the PTF has earmarked December and next May for both activities.
All funds raised will be used to further develop the school's ICT infrastructure; and encourage students to perform well academically, as each year, the PTF presents special awards to graduating students who make the Honor Roll throughout their school history, as well as to the top performing students of Forms 1 - 4.
The PTF's mission is to create a stronger bond between parents and the school, as well as between the school and students. We believe that this pageant will also help to build positive self esteem in our students and function as a platform for our school to present role models in our community. The two winners will be our ambassadors to embrace our motto of achieving, excelling, caring, and learning during the 2017-18 school year.