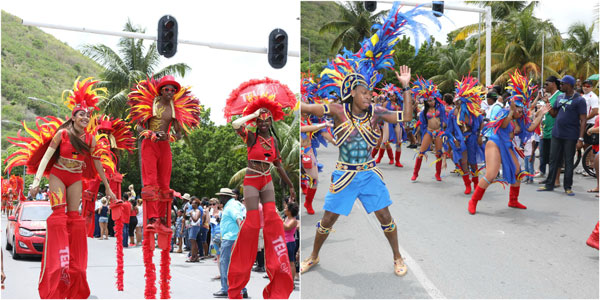 PHILIPSBURG:--- Minister of Tourism Mellissa Arrindell-Doncher congratulated the St. Maarten Carnival Development Foundation for "a job well done" in organizing and executing Carnival 2017, pointing to the fact that with the continued growth of St. Maarten Carnival, the economic impact for the island is greater.
"As you know all of Carnival's subsidy comes directly from the TEATT Ministry with the intention that the SCDF dedicates the majority of these funds to marketing the festival regionally and internationally. Judging by hotel bookings alone through the month of April, Carnival continues to do very well for the economy of St. Maarten with stay-over visitors, most of whom stay for a week or more on St. Maarten. This leads to a positive economic spin-off for hotels, restaurants, car rentals and Carnival Village and events," the Minister said.
Prior to Carnival 2017 the St. Maarten Tourism Bureau reported that hotel occupancy through April was at 85 percent. The Minister noted that occupancy increased (to approximately 92%) with a surge of visitors to the island in the last two weeks of Carnival. Final numbers is still being compiled.
The Minister noted that social media and online activity also increased this year with the SCDF utilizing its very popular Facebook page with more than 40,000 likes, Snapchat, Instagram and its website to engage potential visitors from across the world who now know about St. Maarten's Carnival.
In addition to the SCDF, the Minister explained, there are now several independent video, still-photography and other social media outlets that cater specifically to the promotion of Carnival. "The videos and images that are being spread worldwide about Carnival is very impressive," she noted.
"The SCDF should also be commended for working with two of the island's largest tour operators, Nexus Tours and Bella Tours, in executing Carnival Village tours for our visitors and exporting this part of our culture.
"Lastly I would like to thank and congratulate the board and volunteers of the SCDF for the tireless work they put into Carnival on an annual basis. We all enjoy it but sometimes underestimate the magnitude of the work it takes to pull-off a three-week festival. Ministry TEATT, and in particular the St. Maarten Tourist Bureau, will continue to work with the SCDF to facilitate further growth of St. Maarten's largest annual event.