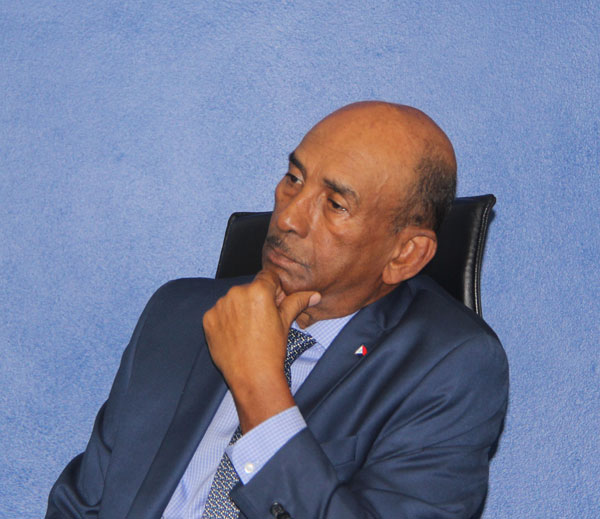 St Maarten Residents should start growing their own vegetables.
PHILIPSBURG:--- Minister of Finance Richard Gibson Sr who recently returned from China where he went to discuss the Caribbean Pearl of China Project that is now being delayed due to restrictions in the deed said the developer is busy negotiating with the original owner of the property to see how they could remove the restrictions. Gibson said that the Chinese are very much enthusiastic about the project that is slated for St. Maarten since it will include a trade center for businesses in the region to purchase Chinese products.
Gibson said he was impressed with the state of Beijing since it is a beautiful city, however, the air is heavily polluted. He said the developer is the developer for the Pearl of China is the Secretary General for the world Eco-Agricultural summit which is held annually in China. As for Beijing, the Minister described it as being much better that New York when it comes to infrastructure. However, their major problem is pollution which a challenge for China because it increases their medical costs.
Agriculture
The Minister of Finance said that the Chinese purchased land in several of islands of the Caribbean and even in Africa to start agriculture to feed their people. He said that due to global warming food items will become scarce and food prices will increase drastically, therefore it is of uttermost importance that the people of St. Maarten start tilling the back of their yards and grow their own vegetables. Gibson said that this way St. Maarten will be able to keep some of its monies locally and not have to import everything at high prices. He admitted that kitchen gardening will not provide all food items but it will at least provide much-needed vegetables.
The Minister of Finance said the lack of food may well create the next world war and it is imperative that people take action now by starting to grow their own vegetables.
While abroad the Minister said he attended the IMF spring meeting where it was disclosed that the US economy will see GDP growth of about 3%. While projections did not show the same for Europe since those countries are facing a number of issues one being a number of refugees they have to deal with while the extraction of the British from the European Union
However, the Minister felt that if the US GDP will increase St. Maarten will see an increase in its GDP which might reach 1% for the year 2017.
The Minister announced that the IMF will be visiting St. Maarten in June 2017. He made clear that the IMF is fully aware of what is taking place on St. Maarten that it even surprised him.
He said the IMF is paying keen attention to what St. Maarten needs to do such as increase its pension age from 62 to 65 which will assist APS.