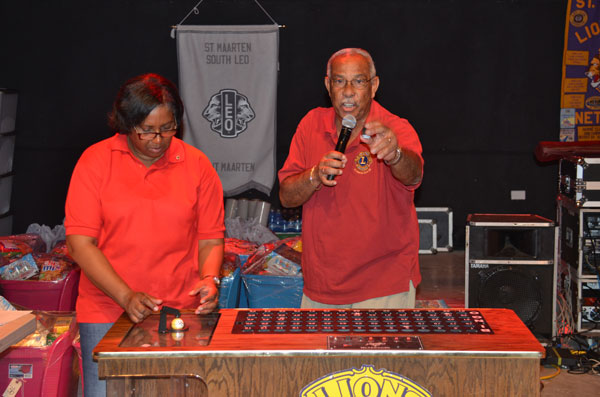 PHILIPSBURG:---- Ever since the St. Maarten Lions Club organized a Mother's Day Bingo Drive three years ago at the Celebration Palace, bingo lovers have been urging the Lions to continue organizing a "Mother's Day Bingo".
Due to popular demand, the St. Maarten Lions Club have decided to comply and will be having a special "Mother's Day Bingo" on Saturday, May 13th, 2017. Prizes will consist of fridges, stoves, televisions, hotel stays, airline tickets, spa treatment vouchers, household appliances and much more.
The Lions Mother's Day Bingo will be taking place on the premises of the Port St. Maarten Group of Companies Complex in the spacious air conditioned Home Porting Building which the harbor group has graciously made available to the St. Maarten Lions Club. The room seats 700. When approaching the Port Complex, the public will be directed to the designated parking areas by Lion members and security guards. Gates open at 7 pm for the public to obtain their bingo cards and the bingo starts at 8 pm sharp.
Bingo lovers are asked to get their tickets for the Lions Mother's Day Bingo as soon as possible as there are limited seating and tickets available. One or more bingo tickets entitles a person to a seat in the bingo. If a person does not have a ticket they will not be allowed in the building where the bingo is being played. Tickets are already on sale every day at the Lion's Den, Van Dorp Bookstore and Big D's Photo Studio and can also be bought from all Lion members at the cost US$10.
St. Maarten Lions Club members will be selling bingo and car raffle tickets on the curb side of the Lions Den on Suckergarden Road this Saturday, May 6th and next Saturday, May 13th from 10 am to 2 pm. The public can drive up and purchase tickets from any Lion member present while sitting in the comfort of their car.
The St. Maarten Lions Club thanks the CEO of Port St. Maarten Group of Companies Mr. Mark Mingo and his staff for generously supporting for this Mother's Day Bingo and other Lions Club fundraisers throughout the years, all for the betterment of the St. Maarten Community.