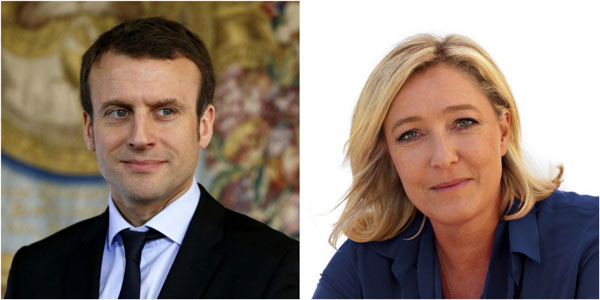 FRANCE:--- Emmanuel Macron and Marine Le Pen will fight for the French presidency after the country's two main parties crashed out of the first round for the first time since the founding of the Fifth Republic in 1958.
In a seismic shift in French politics, estimations from partial results put Mr. Macron, an independent centrist, top on 24 per cent, with Ms. Le Pen, the far-Right Front National leader, just behind on just under 22 per cent.
Conservative François Fillon, dubbed the "Thatcherite" candidate, was heading for elimination on 19.9 per cent, with revolutionary Leftist Jean-Luc Mélenchon projected to come fourth.
Mr Macron raced on to stage, hand in hand with his wife, Brigitte. "The French people have expressed themselves," he said. "It is an honour and a responsibility."
He then paid tribute to the other candidates, naming them and thanking them for their messages of support after a campaign "marked by terrorism".
"In a year, we have changed the face of French politics," he said. "You have succeeded in convincing people that hope for our country is not a dream... In two weeks, I hope I will be your president, the president of the whole of France, the president of the patriots," - the term Ms Le Pen uses to refer to her supporters.
The Socialist Party's official candidate Benoît Hamon came sixth with a paltry 6.2 percent of the vote, meaning the two major French parties mustered less than 27 percent of the vote.
The two finalists offer France two very different visions of Europe and the world, with Mr. Macron billing himself as the progressive versus conservatives, and Ms. Le Pen as the patriot versus the globalists.
On Europe, he wants to further beef up the euro zone, while Ms. Le Pen intends to leave the euro and hold an in-out referendum on EU membership within six months of taking power.
Most of the defeated contenders instantly called on their supporters to vote for Mr. Macron, with Mr. Fillon warning that Ms. Le Pen would lead France "to ruin and European chaos".
"Extremism can only bring misfortune and division to France," he said.Mr. Hamon did likewise, saying: "I make a distinction between a political adversary and an enemy of the Republic."
Mr. Mélenchon last night refused to accept the partial results.
There was relief in the markets as the results from the first round came placing pro-EU Mr. Macron in the lead, with the euro jumping two percent on the day, according to CNBC.
From his Paris headquarters, an ecstatic Mr. Macron, 39, an ex-investment banker and economy minister, said: "We are clearly turning a page of French political life."
His pole position vindicated his huge bet to leave the government of Socialist president François Hollande a year ago to found his own movement, En Marche! (Onwards!), on a "neither Left nor Right" platform. Many predicted the bid by a political novice who has never held elected office would burst like a bubble of champagne Socialism.
Polls suggest that he will beat Ms. Le Pen in the runoff, taking around 60 percent of the vote. She had been banking on first place to create enough momentum to upset such predictions.
But speaking from her stronghold in Hénin Beaumont, a former mining town in northern France which has an FN mayor, Ms. Le Pen insisted: "The first step that will lead the French to the Elysée has been taken."
"Either we continue on the path of total deregulation, offshoring, mass immigration, free movement of terrorists, the reign of big money. Or you choose the France of borders that protects your identity," she said.
"It is time to liberate the French people."
European Commission president Jean-Claude Juncker congratulates Macron
European Commission President Jean-Claude Juncker congratulated has Emmanuel Macron and wished the centrist well for the May 7 French presidential runoff against anti-EU National Front leader Marine Le Pen, Juncker's spokesman said.
"Juncker congratulated Emmanuel Macron on his result in the first round and wished him all the best for the next round," Margaritis Schinas said on Twitter.Underlining broad support for Macron among leaders of the European Union institutions in Brussels, EU foreign policy chief Federica Mogherini from the Italian centre-left added her congratulations to those of Juncker, a centre-right former prime minister of Luxembourg.
"To see the flags of France and the EU hailing Emmanuel Macron's result shows hope and the future of our generation," tweeted Mogherini, 43, after the 39-year-old Macron's first-round victory speech to supporters was broadcast on television.
It was in a down-at-heel town in the Front National heartlands of northern France, far from the despised Parisian elite, that Marine Le Pen chose to celebrate the election victory that has brought her just one step away from becoming the country's next president.
"What is at stake here is the survival of France," she told a wildly cheering crowd after the results were announced of round one of the most unpredictable and the most high-stakes election in decades.
She was speaking in a sports hall on the edge of the town of Henin-Beaumont, a couple of hours drive north of Paris in the French "rustbelt", where the coal mines closed long ago and the factories have moved to Eastern Europe or Asia.
Behind the hall, ironically named the "François Mitterrand Centre" after the late Socialist president, lies a giant slag heap, a reminder of the now disappeared mines whose traditionally left-wing workers were won over by Ms Le Pen's anti-globalisation crusade.
She cast her vote in Henin-Beaumont on Sunday morning, blithely unaware that as she did her civic duty several feminist activists were being arrested outside after jumping out of a car topless and wearing masks of herself and US President Donald Trump.
Then she retired to have an afternoon rest before the nail-biting countdown to the results announcement.
Macron presidency 'bad news for Britain, the euro and EU'
Analysis from Europe Editor Peter Foster:
For once there was no nasty election surprise for Europe's political establishment - the pollsters had it spot-on. As predicted, the centrist Emmanuel Macron and the far-Right Marine Le Pen will face off for the French presidency.
This news will have been greeted with glee in Brussels where Mr. Macron - who is predicted by those same pollsters to win by a comfortable 20-point margin in two weeks time - is seen as a potential saviour of their troubled Union.
With his pledge to strengthen EU external borders with a 5,000 strong force, maintain the Schengen free-travel zone and appoint a finance minister for the eurozone, Mr Macron has pledged to start a "rebirth" of the European project.
But there are several hurdles in the way of Mr. Macron before he can crank up Europe's Franco-German motor, which has been sputtering badly these past two decades because of France's continued failure to pass serious economic reforms.A good election for the pollsters
If Ipsos' estimates of the final vote are right, the pollsters have had a good election.
The final polling average had centrist Emmanuel Macron on 24 percent and far-right percentarine Le Pen on 22.1 per cent. The other two significant candidates, Francois Fillon and Jean-Luc Mélenchon, had 19.6 and 18.9 per cent respectively.
All four of these scores are within 0.5 percentage points of Ipsos' voting estimate that was released as voting closed. If correct, this will grant pollsters some redemption after failing to predict the rise of Brexit and Donald Trump.
Courtesy The Telegraph