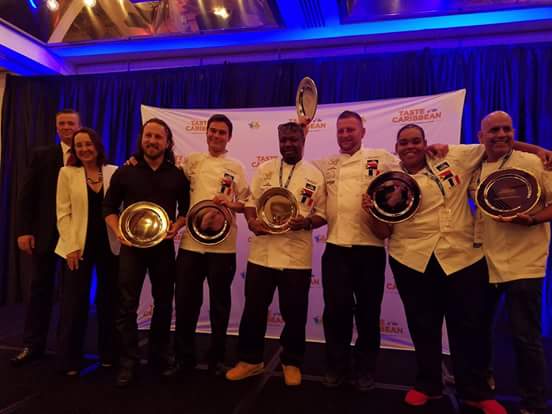 PHILIPSBURG:---- The Sint Maarten Hospitality and Trade Association (SHTA) has announced the program for preparing the Sint Maarten Culinary Team for the annual CHTA Taste of the Caribbean Competition in June. The Sint Maarten Tourism Bureau (STB) has signed on to sponsor and promote Sint Maarten at this highly regarded event in Miami and SHTA is continuing with the foundation of its award-winning team from 2016. Both entities are thrilled to announce that in 2017, St. Maarten will be competing once again in this prestigious culinary competition. We are confident that the some of the best of St. Maarten have been selected and will serve the "Culinary Capital of the Caribbean" well.
Since 1993, CHTA's Taste of the Caribbean has been the most prestigious Caribbean culinary competition. Both resort chefs, restaurant chefs, and junior talent compete in national teams and within individual disciplines. Winning teams receive high accolades and garner much international attention for their country. Last year's culinary competition was the best Culinary Competition so far and we are set on surpassing everyone's expectations with the upcoming event said CHTA. SHTA's St. Maarten team participated for the first time after many years absence and came home with Gold medals and high accolades in several categories.
The 2017 national team will be led by Captain Renata De Weever (Sonesta Great Bay Resort & Casino/NIPA). Chef Dino Jagtiani (Temptation Restaurant), Chef Pieter Holstein (Rum and Peas/Canoa Restaurant), Chef Ronald Estephane (Sonesta Maho Beach Resort & Casino), Justin Assendelft (Holland House Hotel). Rising Chef Suzirea Adoptie (Student at NIPA) will be the junior representing St. Maarten; Paul Peterson (Temptation Restaurant/NIPA) returns as our Bartender contender.
In preparation for the 2017 Event the SHTA St. Maarten Culinary Team will host four fundraising dinners:
Thursday, April 13th 7:30 pm at Infinity Restaurant in Oyster Bay Beach Resort
Thursday, May 4th 7:30 pm at Ocean Lounge Bar & Restaurant in Holland House Hotel
Thursday, May 18th 7:30 pm at Canoa Restaurant in Oyster Pond
Wednesday, May 31st 7:30 pm at Temptation Restaurant in Cupecoy
We invite all those fine food and wine lovers to support the team by attending these practice/fundraising dinners. Please note that last year all the dinners were sold out in advance so we encourage you to reserve your spots as early as possible by contacting This email address is being protected from spambots. You need JavaScript enabled to view it. or calling 1-721-542-0108. Tickets are $95 each per person this includes a 4 or 5-course dinner paired with wine. Prearranged vegetarian menus are available.
The organizing parties are still seeking additional sponsorship. We hope that the community of St. Maarten will join us in the effort to ensure the successful participation of the team, if you support our cause, please contact the SHTA office.
Thank you to St. Maarten Tourism Bureau, Sonesta Group of companies, PDG, Anderson Fabrics, PWC, PRIME, Oyster Bay Beach Resort, Carl's Unique Inn, Antillean liquors, Steve Connolly Seafoods, NIPA and Sundial School who have already committed to supporting the culinary team.
CHTA's Taste of the Caribbean will take place in Miami from June 2-6. We encourage those interested to please attend the events in Miami to support our team and taste some fabulous and impressive food from all the islands.