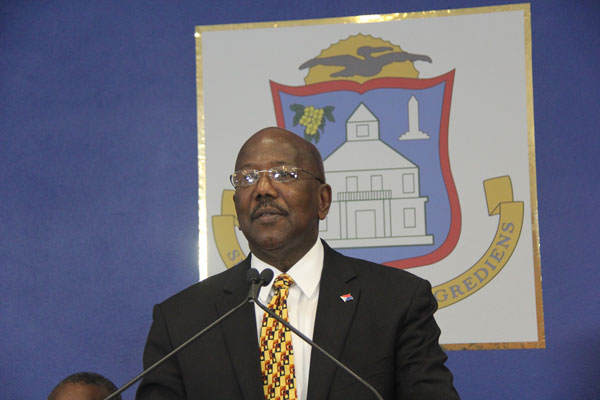 PHILIPSBURG:--- Prime Minister William Marlin is furious and he plans to do everything in his power to fully inform the Kingdom Council of Ministers who might well impose an instruction on St. Maarten to establish an integrity chamber. The Prime Minister told members of the media on Wednesday that he received a letter on Friday from Minister of Interior Affairs and Kingdom Relations Ronald Plasterk who informed him that he was sending an advice to the Kingdom Council to impose an instruction on St. Maarten for the establishment of an integrity chamber. Marlin said this advice is on the agenda for Friday and as such he and Minister of Finance Richard Gibson are traveling to the Netherlands on Wednesday afternoon where he intends to address the council on the integrity chamber issues.
Marlin went back in time and said that when he was in Aruba and discussed this matter with Minister Plasterk, the Minister asked him to not inform the media of their meetings, which includes disagreements. He said he complied with the agreement but yet the letter Minister Plasterk sent to St. Maarten was leaked to the media.
Marlin said he do not know if his presence and the information he intends to share with the Kingdom Council would stop the Kingdom from imposing an instruction on St. Maarten but one thing he can say that no such thing will be accepted by him as long as he is the Prime Minister of St. Maarten. He said just recently the Minister of Justice of The Netherlands had to leave his post for corruption allegations with drug lords while a chief of police was arrested only last week, yet the Kingdom wants to impose its will on St. Maarten.
Marlin said he is not condoning corruption or integrity breaches but he will not allow the Kingdom to interfere or impose things on St. Maarten when they themselves cannot justify their actions.
The Prime Minister went on to say that what the Kingdom is doing is not only going to affect government but it affect the entire St. Maarten and its time the people of St. Maarten stands up against the injustices.