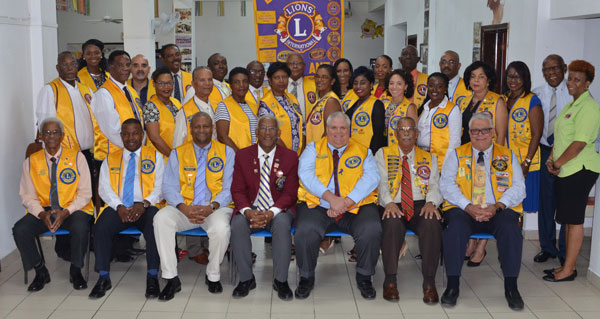 PHILIPSBURG:--- Lions District Governor for Sub-District 60B Errol Lee MJF visited the St. Maarten Lions Club and presided over an audit meeting with the club. Upon his arrival on St. Maarten, the District Governor visited the newly renovated Lions Den Meeting Room and the weekend camp site for the Sister Basilia Center clients which was hosted by the Lions Club and Mohican Scouts. He also visited the future location for the Lions Family Park at the Cottage Roundabout in the Zagersgut area which is to be developed later this year.
The District Governor gave high marks for the hard work and dedication that the St. Maarten Lions Club members have put in for the first nine(9) months of the year under its current President Lion Davey Woods during the audit meeting which was attended by Charter Member Lion Frank Arnell MJF and Deputy Prime Minister, Minister of Justice and Interim Minister of Tourism & Economic Affairs Rafael Boasman who is also member of the club. Thirty(30) board members and regular members attended the audit meeting which included 3 Past District Governors. Lion Claudio Buncamper MJF attended the meeting in his capacity as Region 2 Chairman of which he oversees all Lions and Leo Clubs from the Virgin Islands down to Dominica.
In his remarks to the members at the Audit Meeting District Governor Lion Errol Lee said, "The St. Maarten Lions Club is doing a tremendous job and has really set a high standard in the District as to how a club should be run by bringing in younger members over the past few years with innovative ideas and worthwhile projects and letting them breathe new life into the St. Maarten Lions Club while effectively serving the St. Maarten community".
The audit meeting with the District Governor concluded with several presentations followed by dinner with the
St. Maarten Lions Club members at the Lions Den. St. Maarten was the final stop on the District Governor's visit to the various Lions & Leo Clubs in Region 2.
The St. Maarten Lions Club would like to thank the management and staff of the Sonesta Great Bay Resort for sponsoring the hotel accommodations for Lion District Governor Errol Lee during his stay on the St. Maarten.