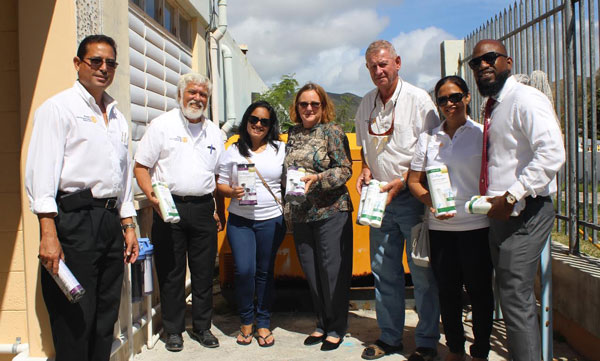 PHILIPSBURG:---- March 22nd is World Water Day as declared by the United Nations and is also observed by Rotary International as its focus for the month of April as Water and Sanitation Month.
Last year The Rotary Club of St. Maarten-Mid Isle In an effort to ensure that clean drinking water was available to our children at school made an inventory of the schools that did not have properly functioning water coolers. It was found some schools were lacking well-functioning coolers and some coolers were without filters, six schools participated in our in our 'Water for School' project in 2016. Again this year Mid Isle did another inventory and found eighteen schools that did not have properly functioning water coolers. Mid Isle looked for donations to cover expenses for the replacement and installation of new water coolers where necessary. In addition, as an extra precaution, water filter installations will be mounted to treat the drinking water prior to distribution to the water cooler systems.
The 'Water for Schools' project was officially launched on Monday, March 20th at the Marie Genevieve de Weever School, in Hope Estate, whereby a new water filter installation was installed under the supervision of Rotarian Tony da Cunha.
During 2017 Mid Isle will be Celebrating the Rotary Foundation turning 100 years old. That's a century of Rotary members changing lives and improving communities all over the world.
The Rotary Club of St. Maarten-Mid Isle meets Tuesday at 7 pm at Mary's Boone in Simpson Bay. For more information please contact This email address is being protected from spambots. You need JavaScript enabled to view it. or visit our Facebook page Rotary Club of St. Maarten-Mid Isle.