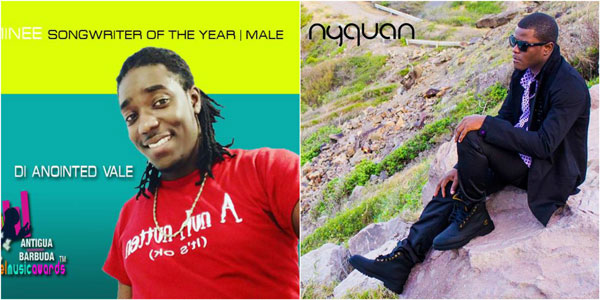 PHILIPSBURG:--- JIFE Music artists Di Anointed Vale and Nyquan have been nominated in several categories for the 2017 Antigua and Barbuda Gospel Music Awards (ABGMA), slated for March 25 in Antigua. Vale, whose debut album Blood A Jesus was released last December in St. Kitts, has been nominated for Album of the Year. The other categories he has been nominated in are International Psalmist of the Year (Male), Songwriter of the Year (Male), two nominations in Collaboration of the Year and Song of the Year. The two songs nominated for Collaboration of the Year are "I'm Available" featuring Eddie Neblett and "Worship" featuring Princess Vanessa, both artists from Guyana. The songs are on Vale's album.
"I'm Available" has been nominated for Song of the Year. "It's a real great feeling to know that all the hard work and the sleepless nights in the studio, mixing the songs, building the rhythms and all of that stuff, to see someone recognizes your work," said Vale on being a nominee in this year's awards. "It feels real good to know that there are people who would recognize what you have contributed," he said. "I'm Available" has been getting a lot of airplay around the world including St. Kitts and Nevis, Guyana and Antigua and Barbuda. So far, it has proven to be his most popular song on the album.
Meanwhile, President of JIFE Music: Nyquan has been nominated as producer of the year. Nyquan is one of the main producers at JIFE having worked extensively on the Blood A Jesus project, the first album to be released by JIFE Music. He also produced for fellow label mate Dominic Brookes and other artists who are not under JIFE's banner including St. Kitts protégé Ikena and Solider Bless. Voting on the nominations, except producer of the year, was open to the public but has since closed on February 28th. The Producer of the Year will be chosen by the judges. Executives at JIFE Music are elated with the nominations of their artists and is confident that they will bring home awards at the end of the awards ceremony on March 25th.
JIFE Music is a St. Kitts-based record label, which is a subsidiary of media production company Palm Branch Media. JIFE is the acronym for Jesus is For Everyone (JIFE). The meaning of the acronym of JIFE is the mission statement that drives JIFE Music. A record label designed to showcase the best in Caribbean gospel music, JIFE Music was birthed out of a desire to proclaim the Glory of the Lord Jesus Christ, in the form of Caribbean contemporary music catering to the needs of the urban music fan. JIFE Music began with a shared vision by four entrepreneurs in St. Kitts and Nevis: Andre Huie, Roy Nisbett, Lester Henry and Jermaine Willock, each with some experience in performing, producing and promoting gospel music.