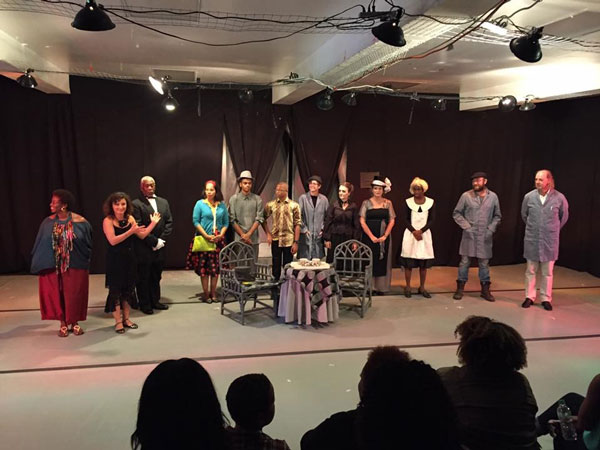 Readying Black Box stage for brand new production "The Dude with the Golden Tune"
PHILIPSBURG:--- The National Institute of the Arts (NIA) is bringing down the curtain this weekend on its hit production Behind the Beyond directed by Albina Matuzko.
The "fake" comedy is a stage version of a short story by Canadian Humorist, Stephen Leacock, indulging in a nostalgic 1910 period in Edwardian England.
Four different audiences have so far seen the show and all have given high praise to the skill of the Director and her players and also to the fun interaction they are forced to have with the actors with encouragements, banter and with well-timed gestures.
The production has been a runaway success, playing to sellout shows, with a waiting list for tickets that may well prompt a repeat performance, much to the delight of those involved with NIA's Theatre Lab in their mission to quench a new-found thirst of theatre-lovers on the island with continuous theatrical productions and also with behind-the-scenes routines and support workshops.
The Theatre Lab's contact with its audiences continues immediately after Behind the Beyond with a second production " The Dude with the Golden Tune" – by drama teacher and Director, Loes Nauta.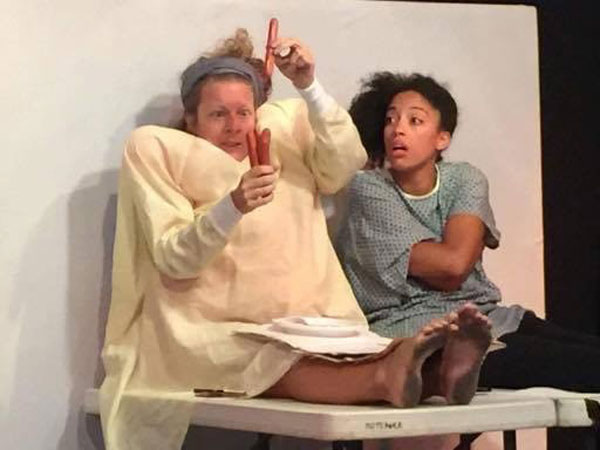 The Dude with the Golden Tune will also see Behind the Beyond Director Albina Matuzko, in a co-directing and acting role, immediately following the staging of her hit "fake" comedy.
According to Director, Loes Nauta, "The Dude with the Golden Tune" is a compilation of scenes played a famous spy and eccentric villains – hell bent on taking over the world.
The Dude is the hero in the various famous spy stories, adored by many women, however always manages to wind up in a pickle: in chains, in shackles, tied up or overpowered by an enormous laser weapon.
The villains, on the other hand, are immature, theatrical, bombastic and vicious - and that's where the fun begins, with theatrical license to take a closer look at them: Dr. No, Elliot, Silva, Goldfinger and Mr. Big all make their appearance in this chilling, exciting and comical review of a handful of James Bond movies.
NIA invites all theatre-lovers (and even curious onlookers) to come out and see a wonderful exhibit of collective cinematic showstoppers when five talented actors take to the Black Box stage to walk you through the exciting life of a well-known spy.
The direction is in the hands of Loes Nauta, the NIA drama teacher, co-directed by multiple actors: Dieudonnee Ostiana, Alexandra Stroud, Albina Matuzko, Nascha Kagie and Loes Nauta, who will be showing their most evil and comic sides for each of the characters.
A half price Preview is hosted on March 12th at 3 pm at the John Larmonie Center in Philipsburg.
The Premiere is on March 17th at 8 pm with subsequent shows on March 25 and 31st at 8 pm. A Sunday matinee will take place on March 19th at 3 pm.
Reserve by emailing This email address is being protected from spambots. You need JavaScript enabled to view it.. 20$ in advance, 25$ at the door. 10$ for kids (7+)and students. Get your tickets early!