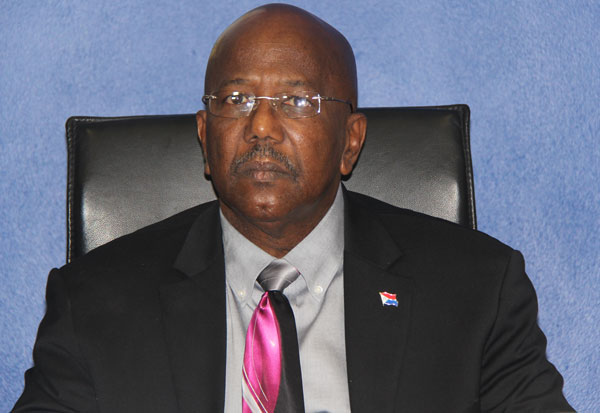 PHILIPSBURG:--- Prime Minister William Marlin announced on Wednesday that an agreement has been reached with the French side regarding the Captain Oliver's marina. He said that the Prefette apologized for halting the repairs of the marina which have contributed to a loss of business to the owners. He said that currently, the department of VROMI is working with their French counterpart and letter is being prepared to send to the owners of Captain Oliver's regarding the repairs of the marina. Marlin did mention that the French agreed to monitor the repairs. The Prime Minister said that for now, the French have agreed to maintain the status quo that states that the marina remains under Dutch jurisdiction.
He said that parties have the land border demarcation discussions have not yet started. He said that the sea border demarcation was concluded in 2015 and a treaty was signed off. He said one of the issues on the land border discussion the French is claiming that they own half but those discussions have not started thus the status quo remains in place.
Prime Minister stands behind instruction given to civil servants.
The Prime Minister also announced that he has taken notes of the statements made by the Dutch as per the measures they will take if the integrity chamber is not established. Marlin said that the having an integrity chamber on St. Maarten is of paramount importance to his government. While stating that he will not discuss the matter in the media, Marlin said that he will be meeting the Minister of Interior Affairs Ronald Plasterk and this particular matter will be discussed. He said that the statements made by the Dutch that St. Maarten did not do anything to establish the integrity chamber is far from the truth since both government and parliament did everything they had to do but the Ombudsman took the case to court and the protocol that was signed was thrown out by the constitutional court because it will infringe on the rights and privacy of the people.
The Prime Minister who was off island also made clear that the letter sent out by the Deputy Prime Minister giving all civil servants an instruction to not speak with the quartermaster who was appointed by the Dutch has his full support because the process was initiated by him. Marlin said that this matter has not been finalized and no one will bring their police to lock up everyone on St. Maarten. He said that there are integrity breaches in the Netherlands but there is no chamber there to police them.
On another note, the Prime Minister announced that he will be meeting and starting discussions with a delegation on the pre-clearance for citizens. He said that the agreement is between the country and the US thus he is the one who will be discussing the pre-clearance with the US delegation.