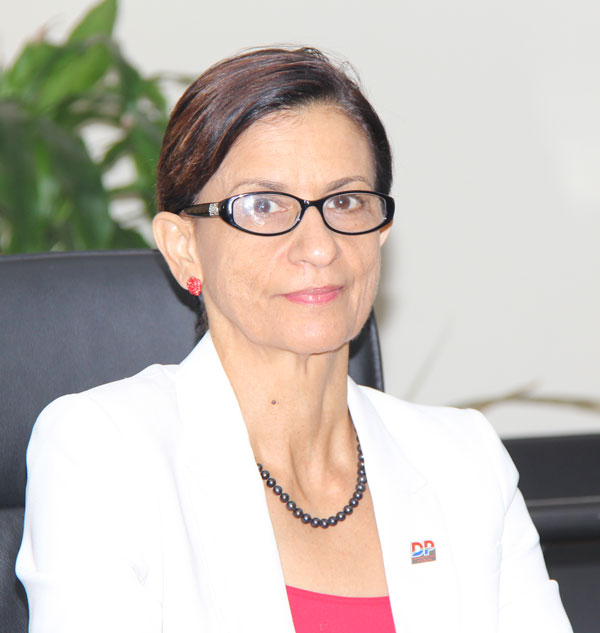 PHILIPSBURG:--- Chairlady of Parliament Sarah Wescot Williams demanded the Council of Ministers to come back to parliament in the second round with a sound plan of approach on how they will start to implement the English language. Wescot Williams made clear that she will not be signing a governing accord that does not have that in it, she said that each Minister should put aside NAF 50,000.00 which will give government NAF350,000.00 which could be used to start off the project to establish the English Language within the government. The chair lady of parliament made clear that government better not look towards parliament to contribute to that project because of the government of St. Maarten already slashed the budget of government.
Wescot Williams made clear that she had three motions to present to parliament, but she would not do it in the first round but instead she will give the government the opportunity to come back with a sound plan of approach on the implementation of the English language. Wescot Williams also outlined the difficulty civil servants have with the English Language. She said some of the advisors to the Ministers cannot even speak English yet they have to advise Ministers on documents they receive from the high councils of state.
Wescot Williams also posed several questions on the waste to management facility that was abandoned by government due to the Oyster Pond issues. Wescot Williams asked the Council of Ministers to bring a solid plan on how they will deal with the project. She also asked about the other cooperation agreements signed with the French side such as the one signed by USM and the French. She made clear that it is not wise for government to stop negotiations because of the Oyster Pond dispute.
Another point raised by the DP leader is the monies allocated by government for the Council on Law Enforcement. She said if government is contributing to this entity then why is it not possible for government to use the reports to make changes within the justice ministry.
Wescot Williams said that the Minister of Justice asked the Council of law enforcement to investigate the functioning of the Prosecutor's office after the first verdict was handed down on the Masbangu investigation where the judge said there is class justice existing on St. Maarten. The DP leader said that investigation was conducted and recommendations were made and she wants to know if the Minister of Justice did anything with the report especially when it comes to timely prosecution after a complaint was filed against anyone.