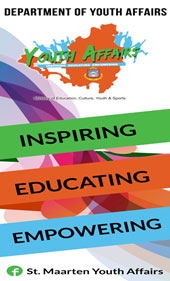 Department of Youth Affairs to Celebrate 2016 International Day of the Rights of Children --- Awareness campaign to focus on Education.
PHILIPSBURG:--- The Department of Youth Affairs has launched its official annual awareness campaign in commemoration of the International Day of the Rights of the Child which will be observed on November 20th .
The awareness campaign which has been executed for twelve years consecutively, is a collaborative effort of the Department of Youth Affairs, the Department of Sports ,UNESCO, the Collectivity of St. Martin, schools and non-governmental organizations (NGO's) as they strive to bring awareness to children, parents, and the community in general about the rights of children.
The theme for this years' campaign will focus on education and will be spearheaded under the slogan: "Educate Me Right So My Future is Bright". This theme which addresses articles 28 and 29 of the Convention of the Rights of the Child was selected to raise awareness on children's' rights to education. This entails not only educating a child on an academic level but also on a social level by instilling proper morals, norms and values in a child which will result in a stronger society.
This year's calendar of events will see activities hosted by various stakeholders and will kick-off on November 15th with a Kids Poetry Evening at the SOIL on LB Scot Rd. This event will be hosted by Foresee Foundation and Poetic Lounge and will start at 6.00 pm to 8.00pm with free admission.
The official commemoration ceremony will be hosted by the Collectivity of St. Martin in Marigot on Monday November 21st,2016.
Other activities include the SMOYA Awards hosted by the St. Maarten Youth Council on November 19th at the Belair Community Center, a presentation made by the members of the Youth Parliament on November 25th which will be aired live from 3.00 pm to 4.00 pm, the Rights of the Child annual Sports Day hosted by the Collectivity of St. Martin on Saturday November 26th, a fundraising bike-a-thon hosted by the Sharks Swim Team on December 3rd,a movie night hosted by St. Maarten Promoting Young Ambassadors on December 9th and a Rights of the Child Christmas Party hosted by the Department of Youth Affairs in collaboration with businesses of the private sector on December 11th, 2016.