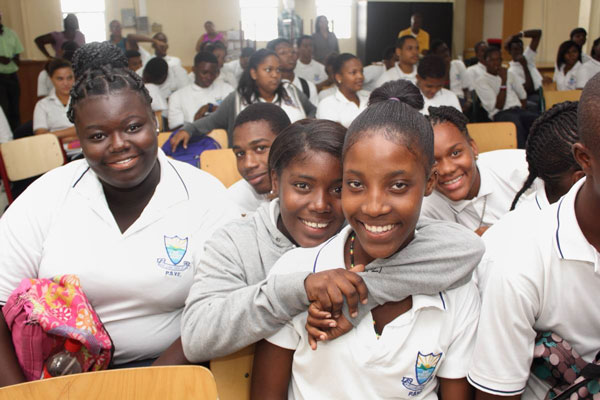 Entrepreneurs inspire students of St. Maarten Academy PSVE to be entrepreneurial!
PHILIPSBURG:--- On November 16, 2016, Foundation INFOBIZZ will host its third Youth Entrepreneurship Experience at St. Maarten Academy PSVE. This it to inspire and empower the youth to be more entrepreneurial and to encourage the innovative and creative minds of these dynamic young people.
Since it has hosted its first event in 2013, INFOBIZZ has been able to influence more than 750 students. Focused more on youth and women as of 2016, this year's Youth Entrepreneurship Experience has attracted a variety of local entrepreneurs both based on St. Maarten and abroad to share their experiences on how to overcome adversity and achieve their dreams.
INFOBIZZ is dedicated to empowering and inspiring the youth, especially those at PSVE. This has been done in collaboration with the Business Department, headed by Mrs. Kerry Laurence and Mrs. Marisha Olivacce from the Student Care Department, as one of the coordinators. Both these women have been instrumental in putting this together.
Confirmed are entrepreneurs such as Michelle Christian, CEO of Glamaty Caribbean – a quality make-up and hair care line, Red Eye Crew, the leading music group which is achieving uncommon success in the entertainment arena, and John Sandiford, Eindhoven World Trade Center (eWTC) Entrepreneur of the Year 2016, who is a son of the soil and one of the key speakers for the highly anticipated DOMINATE 360.
In addition to the interactive and inspirational talks with these entrepreneurs, more than 10S0 students will be challenged to come up with innovative business ideas on the spot with just a few items. Groups are to present the businesses in a sales pitch live advertisement formats. Dr. Will Moreland, Forbes featured #1 Leadership Life Trainer in the US and Dr. Vernet Joseph, America's #1 P3 Speaker and Strategist will be coaching the students as they go through their activities along with some of the teachers. The groups will be graded and judged as part of the entrepreneurship experience.