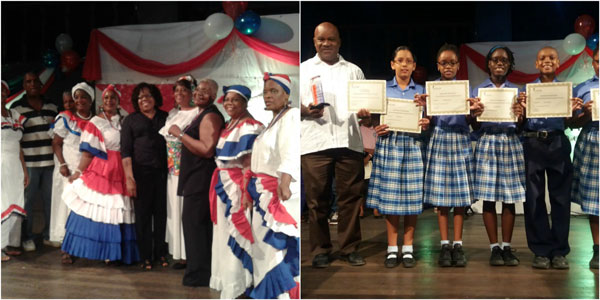 PHILIPSBURG:--- The Pre Sint Maarten's Day Quiz held by the Chuchubi Foundation can be considered a success for those who attended. The Quiz was dubbed educational and very informative. The Foundation was disappointed in the fact that only three schools participated,
but hope to get more schools on board for the next event.
Congratulations goes out to the Winners: First Place MAC Browlia Millard Campus who won a gift certificate of Naf 1,000.- and a memorable plaque. Second place went to the Zr. Marie Laurence School who won a gift certificate of Naf 500.- and a plaque and the Third place went to Oranje School who won a gift certificate of $200.-. All the participants received a certificate of participation.
The audience was also engaged in the questions and also won prizes donated by Office World and Sint Maarten bags made locally by Ms. Cheryl Dedier.
The Foundation thanks the following sponsors: NAPA, Office World, Heavenly Water, Aki Supermarket, Fresh Pond Supermarket, APAS Services, ACE Hardware Store, Tropical Sail
and the Philipsburg Cultural Center and all who in one way or other helped make this event a memorable one.
The Foundation thanks especially the participating schools for preparing the children well and instilling courage in them to participate. They were very brave and enthusiastic. They all did a good job.
The Foundation looks forward to making this an annual event and having more schools participate in this very informative and educational event.