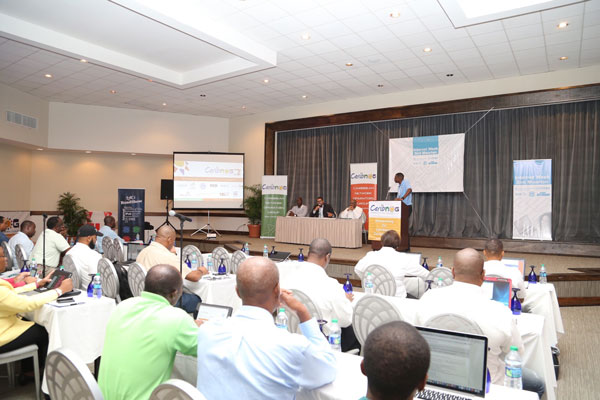 Pond Island:--- TelEm Group management and personnel were well represented in the audience and also on the panels of a major international tech conference that kicked off at the Sonesta Great Bay Beach Resort Casino & Spa, Monday.
The event is being organized by Caribbean Network Operators Group (CaribNOG), the Latin America and Caribbean Internet Addresses Registry (LACNIC) and the Internet Society (ISOC) with the theme – St. Maarten on the Move.
It also involves a week of events being coordinated by the Bureau of Telecommunications and Post (St. Maarten) entitled: "Internet Week St. Maarten."
Monday's opening session was quickly followed by the first-panel discussion, which featured TelEm Group Chief Technical Officer (CTO) Mr. Eldert Louisa, and fellow panelist, Mr. DeWeever from the Bureau of Telecommunications and Post, and Mr. Osepa of the Internet Society.
After welcoming attendees and visitors to the conference, Mr. Louisa proceeded with a presentation on local development of internet services and telecom on the island, how these services are provided technically and steps that TelEm Group is taking to improve on these services – including installation of a brand new ISP core, preparation for an island-wife fibre to the home (FTTH) rollout and the most recent purchase of a local Cable TV operation for the strategic development of IPTV and coaxial internet cable service to customers on St. Maarten.
According to Mr. Louisa, a global increase in demand for data is causing carriers to tailor their infrastructures and networks to cater to this demand, which in the case of TelEm Group, means capital investments to keep ahead of the game, provision of unlimited bandwidth and providing a very reliable infrastructure and affordable packages.
The CTO, was called into a second panel discussion later in the day and will be addressing attendees again on Thursday when he gives an update on St. Maarten's own Internet Exchange, founded and coordinated by TelEm Group for several years now.
Mr. Louisa said he would be speaking about plans to join the local exchange with its counterpart in Curacao, and also about an exciting development that could see the popular Netflix Channel being hosted locally on the Xchange before the end of the year.
Mr. Louisa explained that equipment used by the local Internet Exchange means services like Google is being accessed locally by St. Maarten customers, instead of having to access these services from overseas servers, which can be many times slower.
"Customers who are now viewing Netflix and find their connection is not smooth because of buffering must understand that this is happening because the movies or shows they are watching is probably being hosted on servers anywhere in the USA, and that is what is causing interruptions in their viewing.
"Once we start hosting Netflix on the island, these customers will see an instant improvement in their viewing, " assures Mr. Louisa.
The CTO congratulates all those responsible for staging the tech conference, saying it affords the opportunity for TelEm Group managers and staff, who are most prominent in the sessions, to learn about developments in the industry and also to meet some of their counterparts from Latin America and the Caribbean.
He said the sessions are all the more attractive because they are also being provided free of charge to those attending, also making it possible for more individuals to attend.