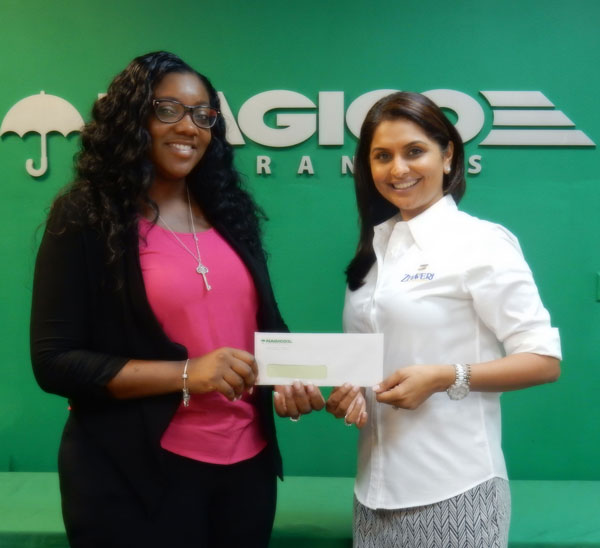 Sponsors Nephrology Conference, -FREE PUBLIC MEETING ON KIDNEY DISEASE
PHILIPSBURG:--- September 5, 2016 – The Rotary Club of Sint Maarten proudly accepted a large donation from Nagico Insurances in support of the upcoming Nephrology Conference.
The Rotary Club of Sint Maarten, in conjunction with the Windward Islands Medical Association, will be holding a conference for medical professionals on the state of Kidney Disease and care on St. Maarten on September 16 and 17 at the Belair Community Center. A FREE Public Meeting on Kidney Disease will precede this conference on Thursday evening, September 15, 2016 from 6:45 pm to 9:00 pm also at the Belair Community Center. Presentations on Kidney Disease, care, diet and prevention will be included along with the opportunity for members of the public ask questions to the presenters. The session will be opened by our Honorable Minister of Health, Labor and Social Affairs, Mr. Emil Lee, along with presentations from Dr. Maite Gil, Nephrologist, Sineida Suares, Assistant Supervisor of the Dialysis Unit and Jeshneila Carti, Dietician.
President of the Rotary Club of Sint Maarten, Henna Budhrani, accepted the donation from Nagico and went on to say, "This donation enables our Club to continue its multi year initiative to support public education on St. Maarten, both for our medical professionals and for our residents. Thank you Nagico for your continued support and we look forward to working with you for many years to come. I also want to thank the Windward Islands Medical Association for their efforts in improving the knowledge of our physicians and the community."
Imran McSood Amjad, Chairman of the Nagico Group of Companies, said, "It is our pleasure to support the Rotary Club of Sint Maarten and the Windward Island Medical Association with this year's initiative on Nephrology education. If we can save one life, we have made a significant contribution to our society. Please remember to come on September 15th for the FREE Public Session on Kidney Disease at the Belair Community Center at 6:45pm."
For more information about the Rotary Club of St. Maarten, please contact the Rotary Club of St. Maarten Press Officer at: This email address is being protected from spambots. You need JavaScript enabled to view it. or visit the website www.rotarysxm.org.